A Guide to Visiting Singapore in December | Attractions, Events, Weather & More
Contents
Whether you're a foodie or a history buff, Singapore is sure to wow you with its majestic shrines, vibrant hawker centers, and luscious greenery. Singapore in December takes on a magical allure, with festive lights and decorations transforming the cityscape into a winter wonderland. Planning to visit Singapore in December? Here's a guide to help you make the most of your trip!
Is December a good time to visit Singapore?
From December through March, Singapore's temperatures are at their coolest, making it a great time to visit! When the weather is comfortable and inviting, it's a great time to visit the city for sightseeing and other outdoor pursuits.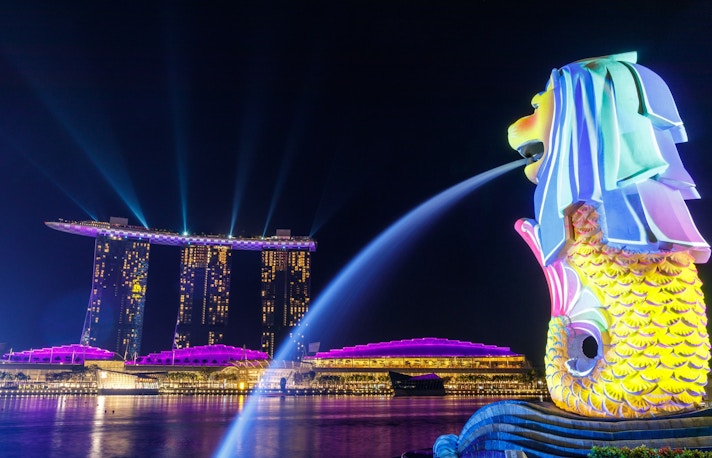 Why You Should Visit 
If you're looking for the perfect winter getaway, Singapore in December, with its mildly colder cloak of brilliance, comes as a breath of fresh air.
86.5 % relative humidity and around 26 ° C are expected.
Singapore celebrates the Christmas season with a slew of festivities throughout December.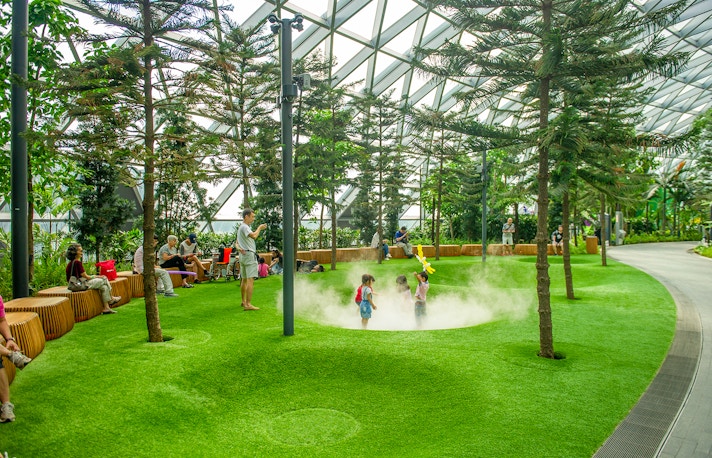 What to Look Out For
Hot and humid all year round is the norm in Singapore. While December brings some respite, visitors should be prepared for what is usually the season's wettest month.
The peak tourist season in Singapore runs from December to June, and while some people enjoy the hustle-bustle, it might be a bummer for others.
Singapore in December is a beauty to behold, but many tourists find the island to be a tad bit too expensive.
Overview of Weather in Singapore in December
Singapore in December is a well-knit motley of rain and snug. December marks the tourist high in Singapore. During December, the average temperature ranges from 30°C  to 23.5°C.
Average Temperature: 30°C  to 23.5 °C
Average Rainfall: Around 287.4mm, with 19 days of unrelenting rainfall.
Average Daylight Hours: 4.3
Sea Temperature: Around 29 °C
Best Time to Visit Singapore
Best Things to do in Singapore in December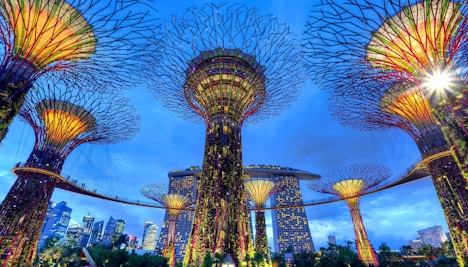 1. Gardens By the Bay
Gardens | Tourist Hotspot 
There are more than 1.5 million plants in the Gardens by the Bay, a sprawling urban oasis in the middle of downtown Singapore that hails from every continent in the world. The iconic Supertree constructions are one of the most eye-catching aspects of the area. The calm coolness of December blends beautifully with the coziness of the overhead skywalk keeping a watch on the garden.
December Timing: Daily from 5:00 am to 2:00 am
from S$20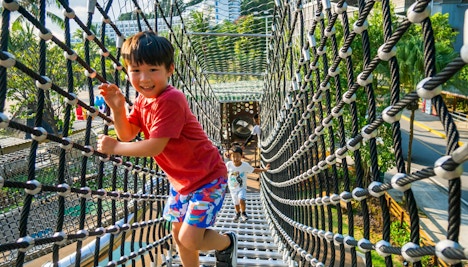 2. Sentosa Island
Resort Island | Tourist Hotspot
As the name implies, Resorts World on Sentosa Island is one of the island's most well-known attractions. A free island-wide bus system and convenient monorail service make it easy to explore all the main attractions. The humidity is at its lowest in December, with an average of 26 degrees Celsius in Sentosa making it ideal for sightseeing and enjoying other the numerous other attractions on this island.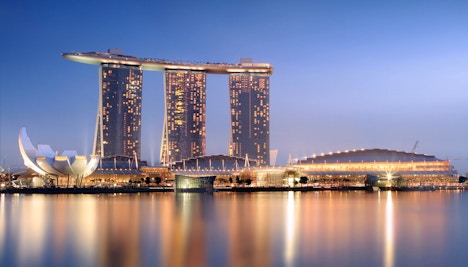 3. Singapore Flyer
Observation Wheel | City Views
One of Singapore's most popular attractions, the Singapore Flyer is a massive observation wheel that towers over the city's skyline. As the Singapore Flyer soars at 165 meters, you can take in the breathtaking views of the city below. Night-time Singapore Flyer rides, especially in the wintry cold of December provide spectacular views of the city's lights as you soar through the air. At sunset, you may get a glimpse of island life glistening as darkness falls.
December Timings: Thursday to Sunday from 3 pm to 9 pm.
Know more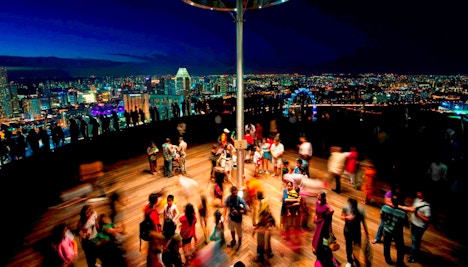 4. Marina Bay Sands SkyPark
High-end Observation Deck | Tourist Hotspot
The SkyPark deck, perched at a height of 56 stories offers some of the most picturesque views of Marina Bay and Singapore's heaven-kissing skyscrapers. Bask in the glory of the mesmerizing view offered from a god-like stance atop SkyPark. Three hotel buildings in Marina Bay are home to an expansive SkyPark with a total length of 340 meters. In the shape of an ocean liner, the SkyPark includes an observation deck, an infinity pool, and a grove of trees. Singapore Marina Bay Sands SkyPark in December offers beauteous views and the calm of nature will surely lull you into a respite.
December Timing: Daily 11:00 am to 9:00 pm.
from S$22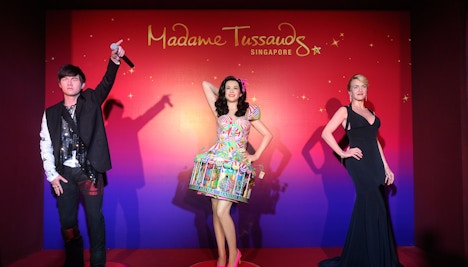 5. Madame Tussauds
Wax Museum
Madame Tussauds, located in Singapore is among the most beautiful attractions in Singapore and offers an array of astonishing wax figurines of iconic celebrities. Madame Tussauds, the world's largest chain of wax museums, inaugurated its eighth Asian location on October 25, 2014.
December Timings: Wednesday to Monday from 10:00 am to 6:00 pm.


from S$30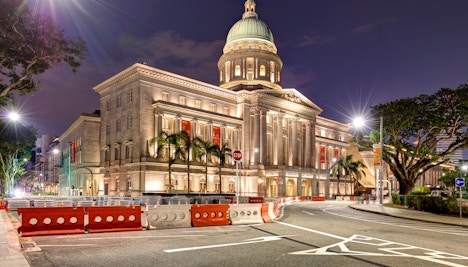 6. National Gallery Singapore
Art & Culture Gallery
The National Gallery, a contemporary museum, showcases the uniqueness of Singapore's cultural heritage and fosters and inspires a vibrant society by bringing together art from Singapore, Southeast Asia, and the rest of the globe. Exhibition visitors may look forward to a wide range of educational programs like guided tours and artist lectures. Every art lover should pay a visit to Singapore's National Gallery in December when it's cooler and less humid.
December Timings: Daily from 10:00 am to 7:00 pm
from S$14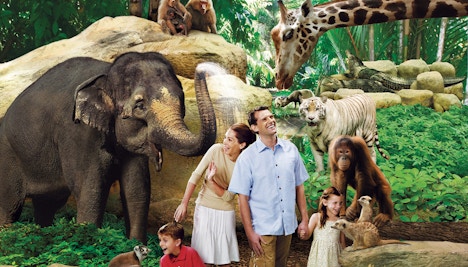 7. Singapore Zoo
Zoo | Tourist Hotspot
Orangutans, endangered primates, and vulnerable southeast Asian chelonians are all given particular care at the Singapore Zoo, which has grown to become a popular favorite among visitors and tourists from all across the world. Singapore Zoo is among the nation's authorized sanctuaries for rescued species. Many travelers go the extra mile to visit the renowned zoo during the winter months, particularly in December.
December Timings: Daily from 8.30 am to 6:00 pm
from S$44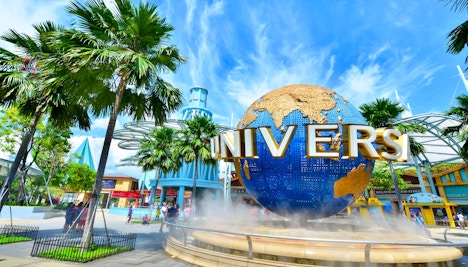 8. Universal Studios
Entertainment | Kids-Friendly
The only theme park under the aegis of Universal Studios in Southeast Asia, Universal Studios is located in Singapore. Take a trip to the movies and get absorbed in the world of Hollywood entertainment. Rides, performances, and other attractions based on your favorite movies and TV programs will whisk you away on a wild, exhilarating adventure.
December Timings: Daily from 12:00 pm to 7:00 pm
Know more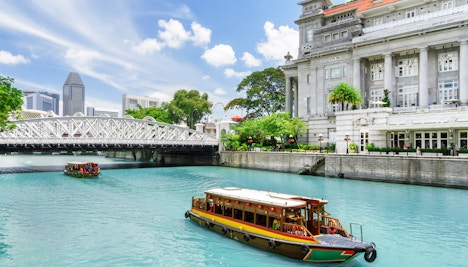 9. Singapore Cruises
Cruise | Leisure
Among the top nations in Asia to visit, Singapore has a wealth of attractions and experiences. There is a great expanse of blue water around this town. The Singapore cruise proves to be a great option for travelers since it provides a respite from the city's buzz and allows them to lay down and repose. One-third of all cruise passengers sail to Singapore, thanks to the state's reputation as a cruising hotspot. Many tourists come to Singapore in December to enjoy a day at sea and take in the city's sights.
Know more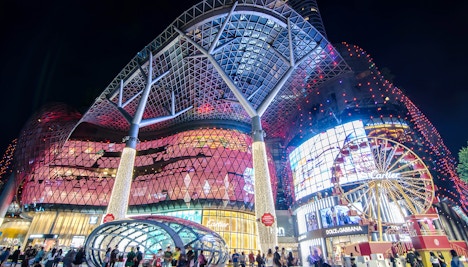 10. Orchard Road
City Street | Historic Location
Orchard Road, popularly referred to as Orchard, is a 2.5-mile-long road within Singapore's Central Area. It is one of Singapore's most popular tourist attractions and a popular shopping district, with various foreign department shops, restaurants, and coffeehouses within a small range. Especially in December, when it is lavishly decked with floral arrangements and other greenery, visitors crowd the area which makes it among Singapore's top entertainment centers.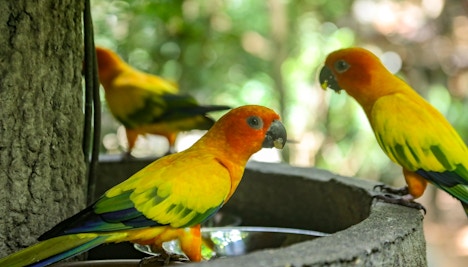 11. Jurong Bird Park
Bird Park | Tourist Hotspot
The number of birds in Jurong Bird Park is the greatest in the world, and it ranks second in terms of the variety of species and the amount of territory it occupies. The Jurong Bird Park has almost 5,000+ birds of hundreds of species, 29 of which are endangered. This park, one of the finest in Singapore for families in December, is a heaven for birdwatchers, as it provides a wealth of opportunities to see a wide variety of species up close.
December Timings: Daily from 8:30 am to 6:00 pm
from S$34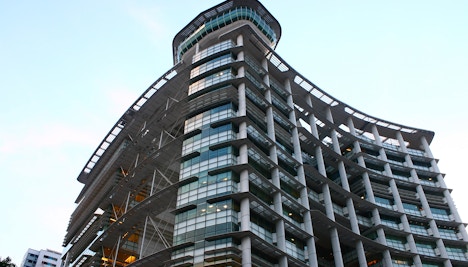 12. Singapore National Library
Library | Tourist Hotspot
Singapore's National Library is among the country's most notable public libraries. An 11,304-square-meter facility on Victoria Street in the Town Center houses this branch of the Library Board. In terms of public libraries, it is the biggest in the nation. A trip to the library in December may be a terrific way to avoid the winter chill while still getting in some quality reading time.
December Timings: Daily from 10:00 am to 9:00 pm
Festivals in Singapore in December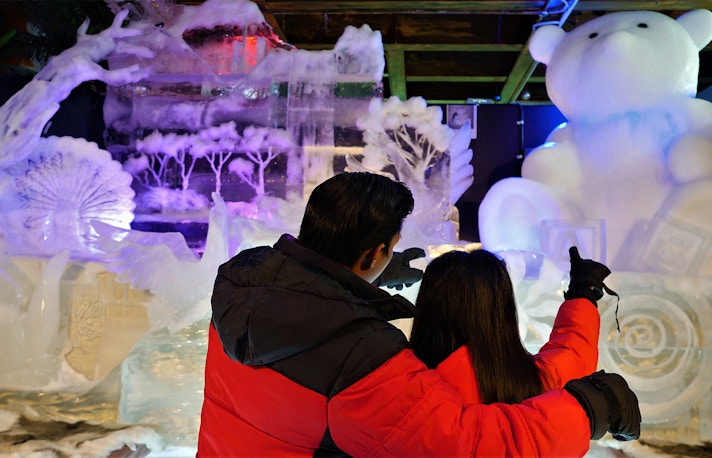 Christmas in Singapore
Date: December 25
Venue: Throughout Singapore
In the midst of Singapore's Christmas festivities, the city transforms into an enchanted beauteous land at night. The Christmas festivities in Singapore are spectacular. As the trees and arches are decked up for a carnival, thousands of glistening lights and bulbs cascade from above.
Know more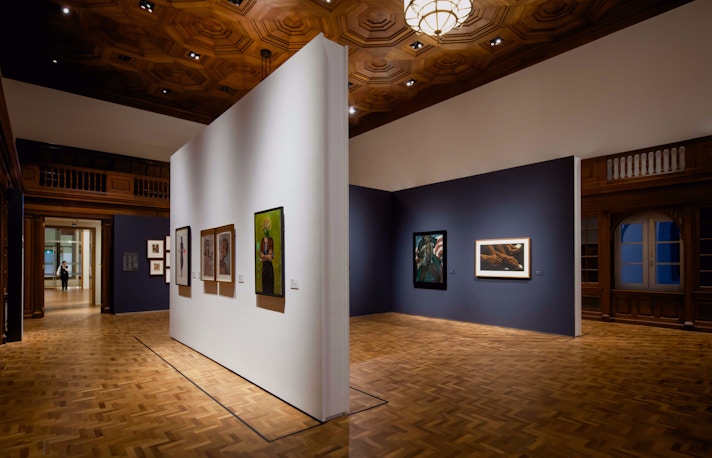 Singapore Art Week
Date: Last Week of December
Venue: National Gallery Singapore
Annually, Singapore hosts the SIFA. The National Endowment for the Arts is organized by Arts Festival Limited. A whole month is dedicated to exhibiting everything from theater to dance to music to visual art at this year-end festival.
Know more
Events in Singapore in December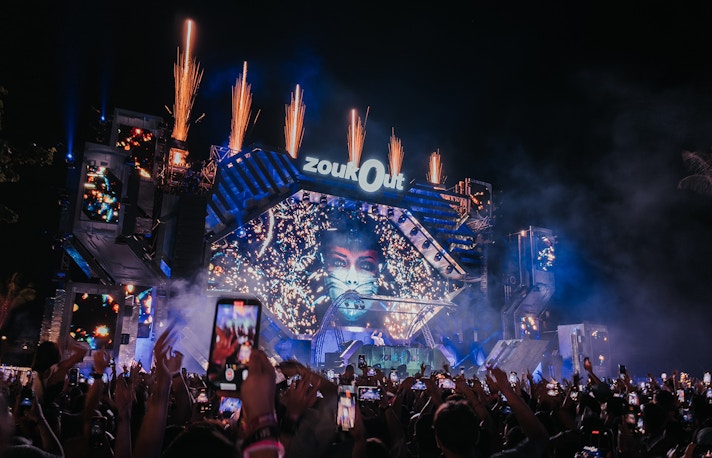 ZoukOut
Date: December 8
Venue: Sentosa's Beach Siloso
The ZoukOut music event is one of Asia's biggest. For this event, Asia's most popular outdoor nightclub Zouk springs to life. As the light comes up, ZoukOut, Asia's largest dusk-to-dawn beach party, comes to an end. This year marks the 19th ZoukOut in Singapore's Sentosa Island.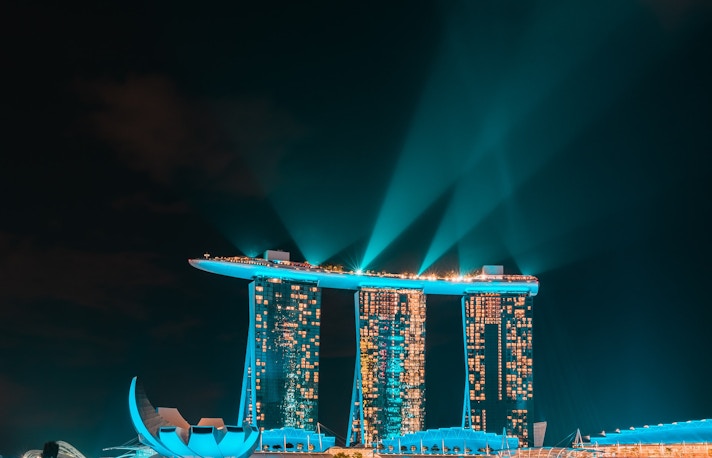 Marina Bay Singapore Countdown
Date: December 31
Venue: Surbana Jurong
Everything about Singapore in December is exciting, intriguing, and charming. The Lion City gears up to ring in every New Year with a bang! Singapore's New Year's celebrations are unlike any other, with revelers lining the streets and a dazzling array of sights to take in right in the middle of the city. There are other festivities around the island, but Marina Bay Singapore's Countdown is among the most well-known.
Know Before You Visit Singapore in December
Travel Essentials
What to Wear
What to Pack
Transport
Stay
Food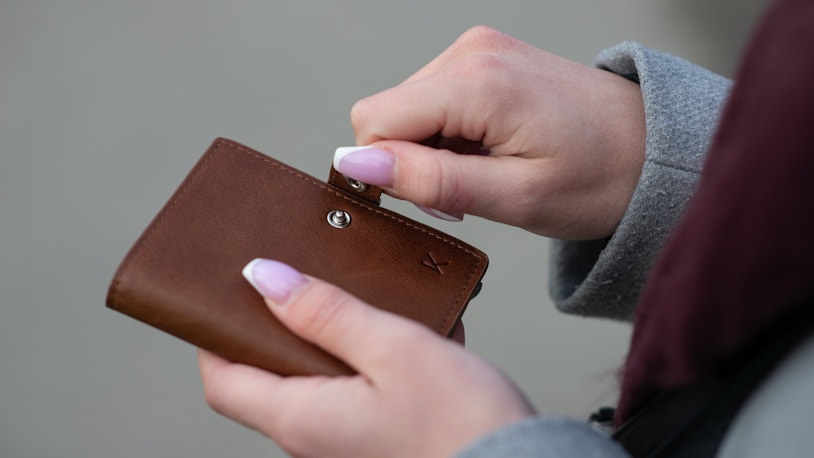 Time Zone: GMT+8
Currency: Singapore Dollar or SGD
Country Code: +65
Emergency Numbers: If you dial 911 or 112 from an international number, your call will be redirected to the emergency number 999.
Travel Guide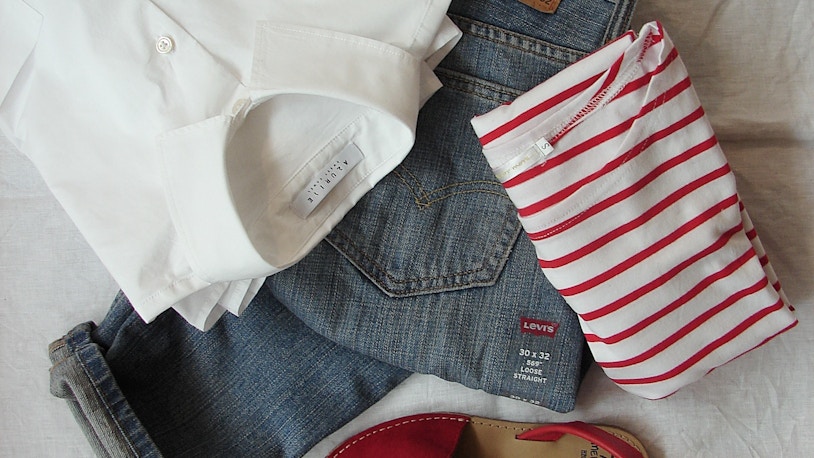 What to wear in Singapore in December
Comfortable t-shirts and shorts or denim are preferable since the weather is always hot and humid.
To keep you cool and protected from the sun, tunics are ideal.
The heat will be more bearable if you choose silk, linen, and cotton since they are easier to clean and dry.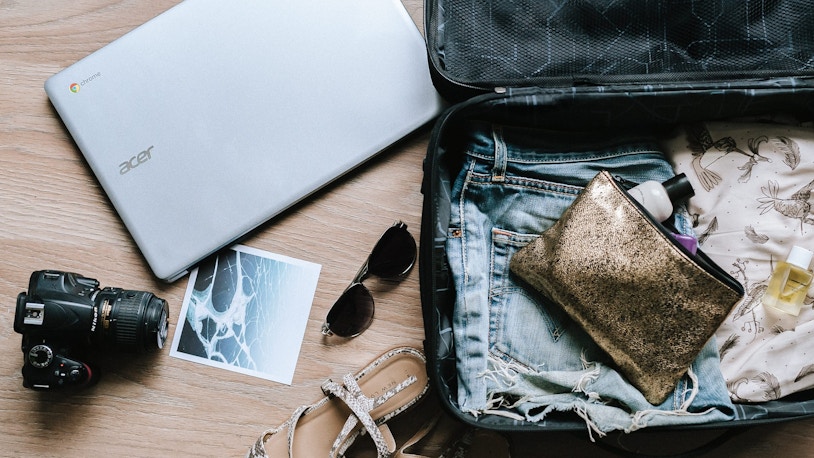 What to Pack in Singapore in December
Umbrellas are a must, keeping in mind the average rainfall of the wettest month of the season.
To avoid getting burnt, you must wear a cap or a hat and use sunscreen with high SPF.
Comfortable shoes for going about are essential.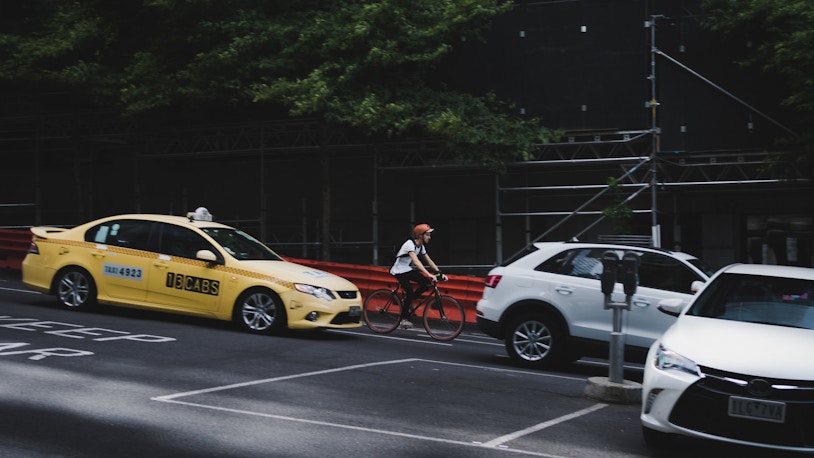 Getting Around Singapore in December
Shorter journeys on Singapore's bus system are a little less expensive than using the MRT. At 6 a.m., the bulk of buses are on the road, and most of them are air-conditioned. Single and double-decker buses are also found throughout the city.
For the first kilometer, regular taxis charge S$3, and afterward for every 400 meters, 22c, with a somewhat cheaper price kicking in after 10 km.
The city's MRT system is the most efficient mode of transportation. Nearly all of Singapore's attractions can be reached on foot from an MRT station.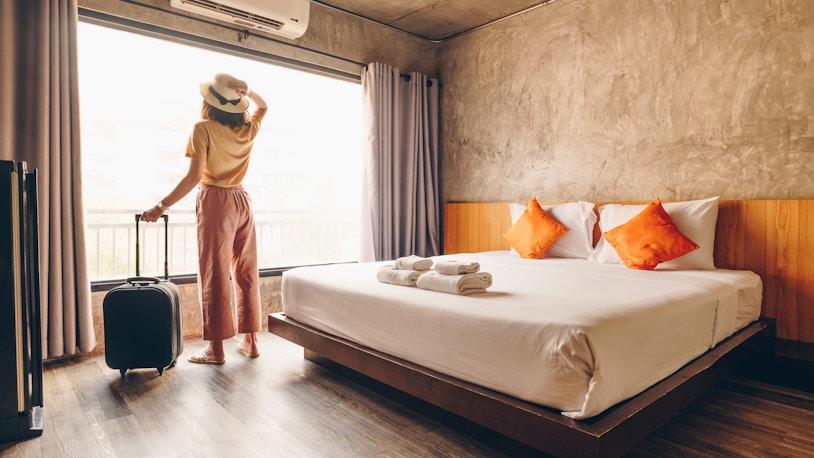 Where to Stay in Singapore in December
Even though Singapore isn't a huge city, there are still a lot of options, making it difficult to decide where to stay or start your trip. Here's a list of hotels for every budget.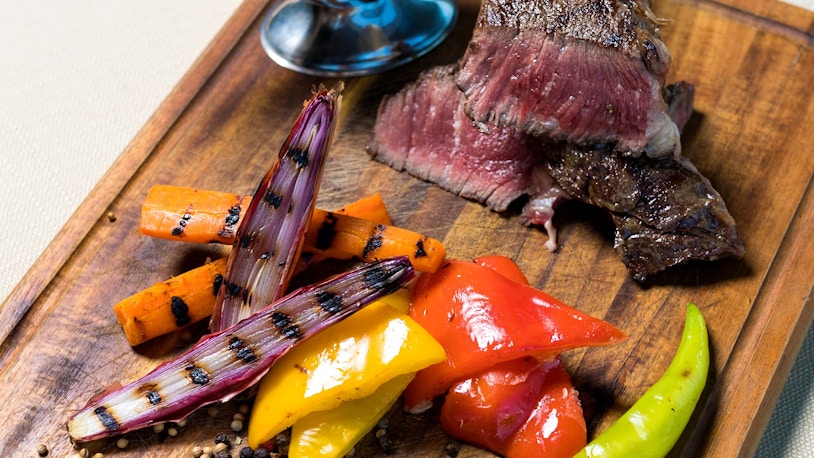 What to eat in Singapore in December
Seafood is a big draw for travelers to Singapore. Tourists are urged by natives to choose chili crab or black pepper crab as two of the most popular delicacies on the menu.
Chicken Rice: Chicken Rice may well be regarded as Singapore's unofficial national dish since it can be found at almost every restaurant in the city-state.
Laksa: Curry Laksa and Asam Laksa are two varieties that combine Chinese and Malay flavors into the Laksa soup
Satay: Pork, poultry, beef, or mutton is caramelized and grilled, and prepared into this Singaporean local delicacy.
Explore Singapore Through The Year
Frequently Asked Questions About Visiting Singapore in December
Is December a good time to visit Singapore?
The weather in December is cooler and more pleasant, with temperatures averaging around 26 degrees Celsius. However, rainfall is relatively high this month compared to other months in the year. So if you don't mind the occasional downpour, December can be a good time to visit  Singapore.
What are the best things to do in Singapore in December?
Some of the best things to do in  Singapore in December include paying a visit to the Universal Studios, the ZoukOut music fest, spending Christmas with loved ones, and many more.


Is Singapore cold in December?
Not particularly. The weather in Singapore in December is mild and comfortable. The average temperature is about 26°C
Is Singapore hot in December?
About 26°C is the average temperature in Singapore in December
Can you swim in Singapore in December?
Singapore's water bodies are 29°C on average in December, making it a great month for a swim.
Is it sunny in Singapore in December?
Singapore remains partially cloudy in the month of December with around 4.3 hours of sunlight a day..
What clothes to wear in Singapore in December?
Comfortable t-shirts and shorts or denim are preferable since the weather is always hot and humid.
Is it rainy in Singapore in December?
Singapore in December witnesses the most waterfall. It is demarcated as the wettest month with an average of 200mm of rainfall.
Is Singapore expensive to visit?
Yes, Singapore in December can be a little expensive to visit as it is the peak tourist month.
Singapore has been acknowledged as among the safest places to visit in the world..
What can I see in Singapore in December?
Singapore in December witnesses a slew of fun activities ranging from Christmas parties to art week and many more.
What are the major events in Singapore in December?
The ZoukOut music event and the Adventure Cove Park trip make up the most enthralling events in Singapore in December.
What is the average temperature in Singapore in December?
The average temperature ranges from 30°C  to 23.5 °C.
What are the best things to do with Kids in Singapore in December?
Kids can be accompanied to almost all of the major attractions in Singapore in December along with a visit to Kiztopia and the Universal theme park
What are the main festivals in Singapore in December?
Christmas parties and Art week are just two of the numerous events that take place in Singapore in December.