The Ultimate Singapore Travel Guide | Travel Tips, Best Time to Visit, Things to do & More
Contents
Top 10 Things to do in Singapore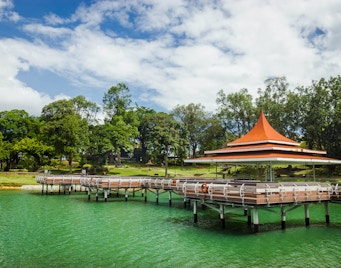 7. MacRitchie Reservoir
Nature Reserve | Leisure
MacRitchie Reservoir is a tranquil, evocative jungle escape. Walking trails crisscross the water's edge and snake through mature secondary rainforest teeming with long-tailed macaques and massive monitor lizards. The Paddle Lodge rents kayaks, but the high point is the outstanding 11km hiking path and its numerous well-signposted offshoots.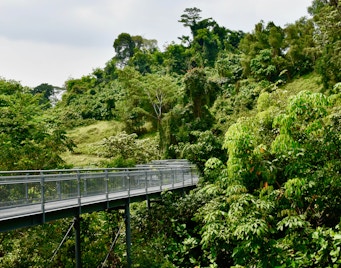 8. Southern Ridges
Adventure | Natural Haven
The Southern Ridges are made up of a series of parks and hills that connect Kent Ridge Park to Mt Faber and the Labrador Nature Reserve. The most beautiful section is from Kent Ridge Park to Mt Faber. This 4km portion not only offers forest-canopy walkways, magnificent skyline vistas, and the opportunity to cross the remarkable Henderson Waves.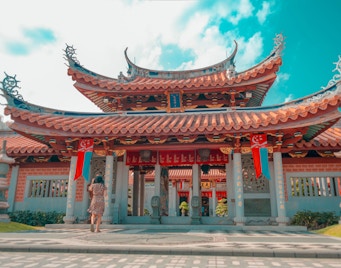 9. Lian Shan Shuang Lin Monastery
Religious Landmark
This magnificent monastery was founded in 1898 and was influenced by the Xi Chang Shi temple in Fuzhou, China. Two glorious gates form the entrance, and a seven-story pagoda decorated with carvings can be found to the right. Shaded paths lead from bonsai-filled atriums to the monastery's three main hallways, the most magnificent of which is the Mahavira Hall.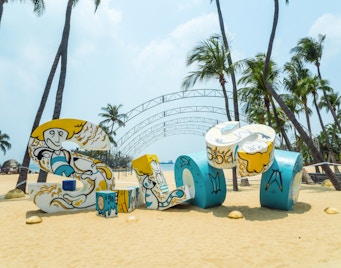 10. Siloso Beach
Leisure | Must Visit
This incredible Beach hosts some of the most important and happening New Year's Eve celebrations in the island city-state. There are some delightful restaurants here that serve a plentiful supply of food, and the bars will allow you to get your groove on. So put on your swimsuit and go for a swim in the warm waters, or merely unfold your Beach umbrella and sunbathe.
Singapore Travel Essentials
Must-Know
Weather
When to Visit
What to Pack
Budget
Travel Tips
Free Things
Apps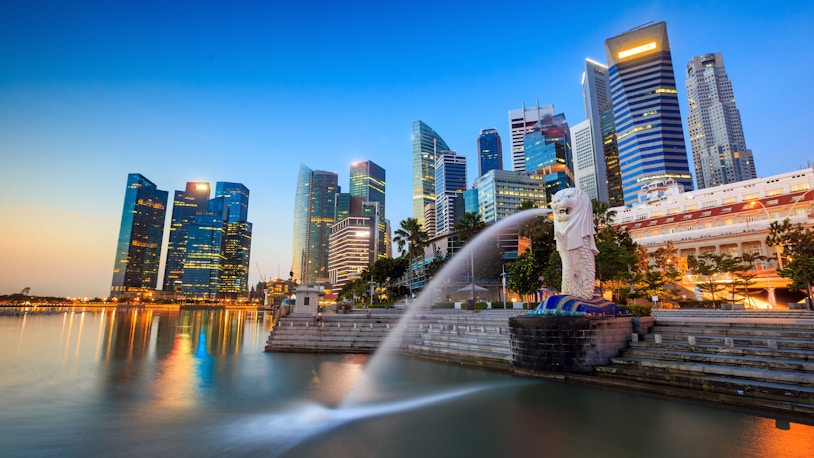 Travel Essentials in Singapore
Time Zone: Singapore Standard Time (SST) GMT+8
Language: English, Mandarin Chinese, Malay, or Tamil
Socket Type: Type G
Currency: Singapore Dollar – SGD – S$
Country Code: + 65
Emergency Numbers: 112 or 911 | Non-emergency ambulance - 1777 | Police hotline - 1800 255 0000 | Traffic police - 6547 0000.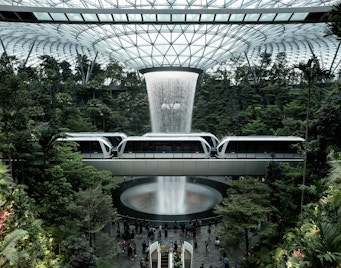 Northeast Monsoon Season in Singapore
When: December to March
Average Temperatures: 30°C - 33°C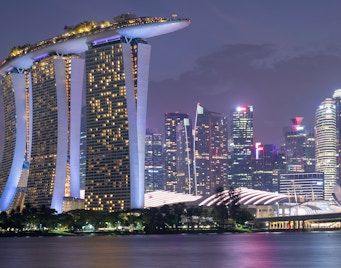 Inter-monsoon Period in Singapore
When: April to May
Average Temperatures: 31°C - 34°C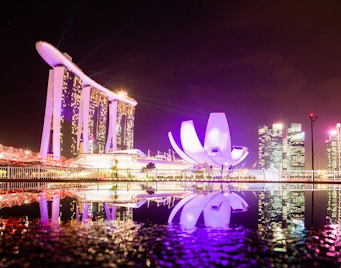 Southwest Monsoon Season in Singapore
When: June to September
Average Temperatures: 32°C to 34°C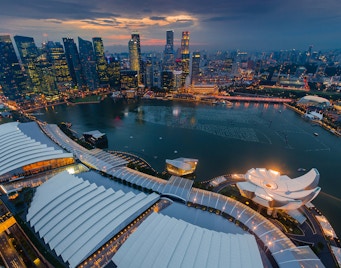 Inter-monsoon Period in Singapore
When: October to November
Average Temperature: 30°C to 33°C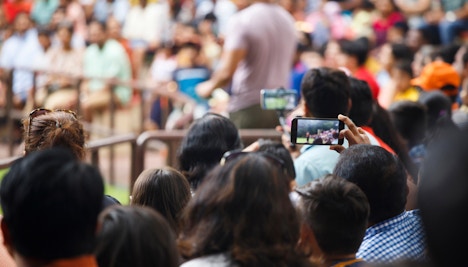 High Season
When: December to May
What to Expect:
Theme parks, monuments, and other tourist destinations are likely to have long lines.
Expect maximum flight rates and high hotel occupancy during the High Season.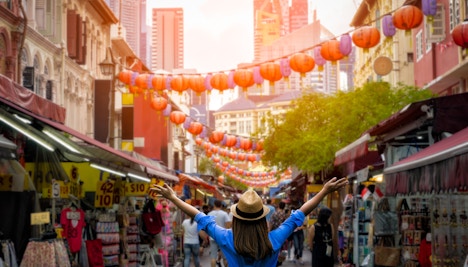 Shoulder Season
When: June and November
What to Expect:
The best times to visit are in the inter-monsoon periods when the weather is less rainy and crowds are manageable.
Hotel and restaurant prices are high, but they are more easily acquired during the shoulder season.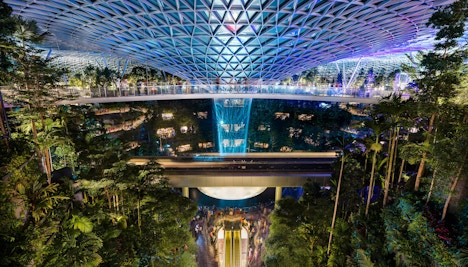 Low Season
When: July to October
What to Expect:
In general, the weather is quite wet with a few sunny days intermittently.
If they don't mind the rain, visitors will be rewarded with fewer throngs of people and queues at top tourist attractions.
Off-season tourists will find great deals on airfare and hotels.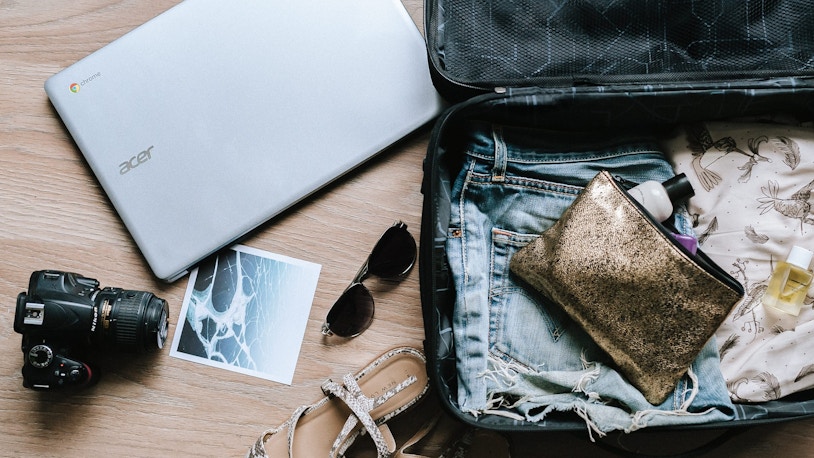 What to Pack for Singapore
Jeans, light cotton trousers, shorts, skirts, light tops, and other breathable clothing items.
Waterproof jacket/windcheater and a rain hat. Pack for drenching showers. Keep rain boots, raincoats, umbrellas, and waterproof jackets in handy. 
Comfortable walking shoes as you'll be doing a lot of sightseeing during your stay in Singapore.
A backpack to carry around during the day to store your personal belongings when exploring the city.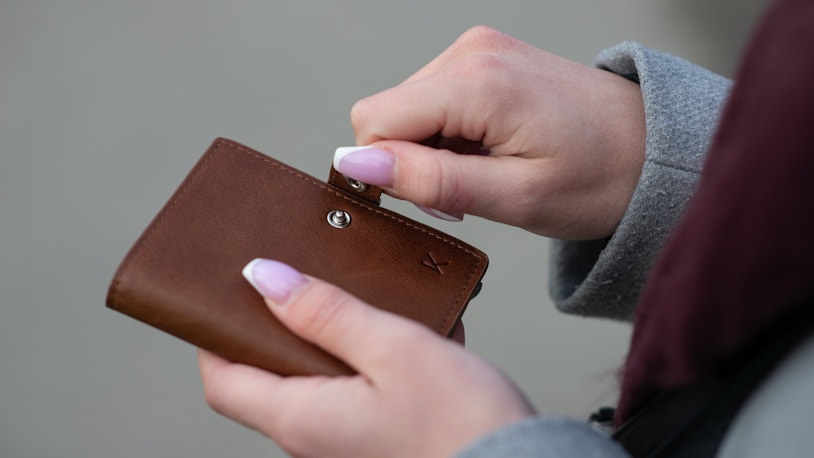 Per Person Average Daily Budget in Singapore
Budget Travelers: SG$62. Budget travelers have reported spending around SG$62 per day in Singapore. Visitors have spent SG$12 on meals and SG$6 on local transportation for a day.
Regular Travelers: SG$164. Regular travelers spend around SG$164 each day. Visitors have spent SG$30 on meals for a day and SG$16  to get around the city. In addition, the average price for a couple's stay in Singapore is SG$225.
Luxury Travelers: SG$451. Luxury tourists may spend as much as SG$80 per day on meals and SG$45 on transportation, with accommodation coming up to SG$600 for two people.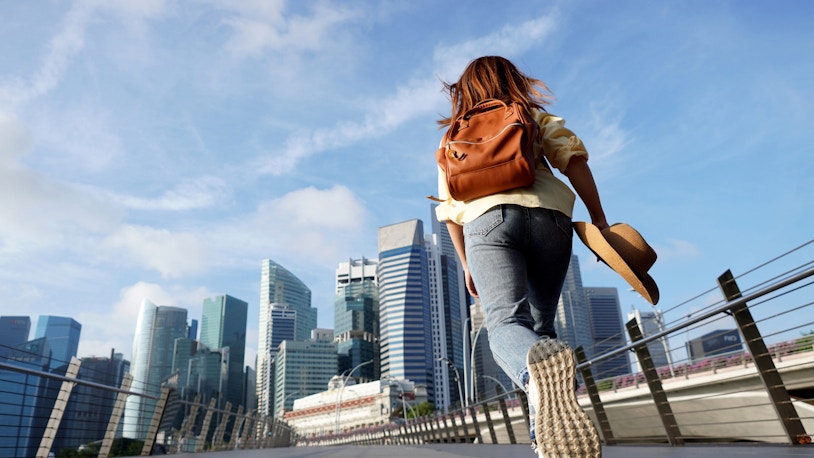 Singapore Travel Tips
Save money at local markets: Skip the trendy cafes and posh restaurants and travel to the local hawker centers for a dinner, where you can enjoy Singapore's most authentic cuisine.
Use the widespread public transport network: Singapore's extensive public transportation system, which is modern and well-maintained, is the cheapest and easiest way to get around.
Know the local laws: Singapore is well-known for its extensive set of laws and regulations. Spitting in the street, for example, may result in a fine if caught.
Tipping is not mandatory: Tipping is not common in Singapore, and service employees normally do not anticipate gratuities, though they are appreciated if you want to acknowledge good service.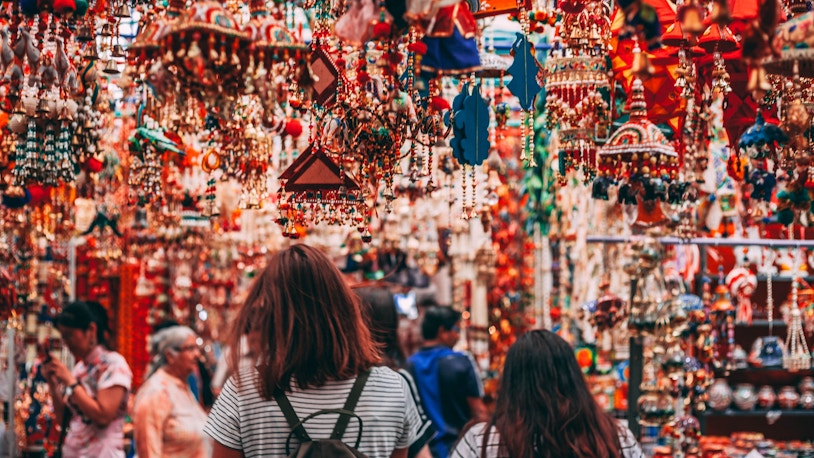 Free Things to do in Singapore
Despite the fact that Singapore is often a pricey place to visit due to its reputation and sheer abundance of sites, here are some of the top free things to do in Singapore:
Attend free live concerts at the Esplanade and mingle with like-minded people. There will never be a dull moment here, thanks to the endless performances and dance routines.
Enjoy a variety of festivals and carnivals, as well as their fun celebrations. The Lunar New Year, Deepavali, Hari Raya Puasa, and Mid-autumn festival are all must-see Singapore festivals.
Take whatever you want from the Free Market and get it for free. However, return the favor by offering your own free wares for sale.
Marina Barrage is one of the best free things to do in Singapore. Hang out with your friends, fly a kite or two, or simply observe others.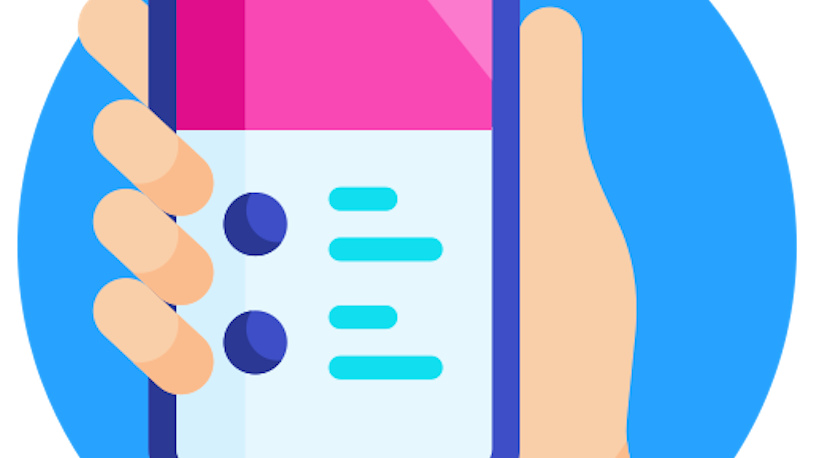 Transportation Apps
CityMapper
Explore Singapore MRT Map
Grab
Food Apps
Other Useful apps 
Weather@SG
Shopee
DBS PayLah

Know Before You Visit Singapore
Airports
Visa
Insurance
Language
Internet
Phone Calls
Health
Money
Safety
Laws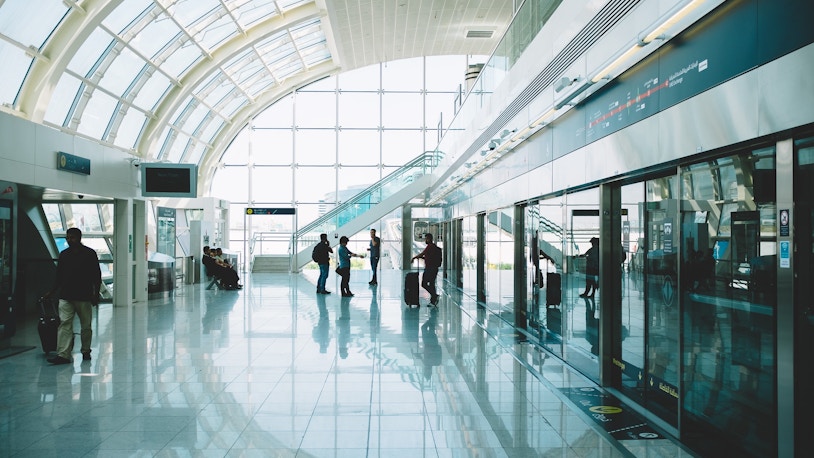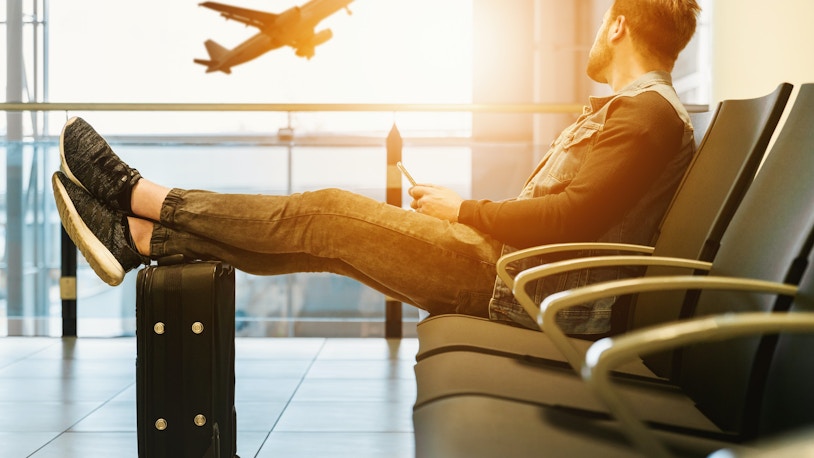 Visa Requirements to Visit SIngapore
For more details on visa and entry necessities, please visit the ICA's website. Alternatively, you can send an email at mfa@mfa.sg if you have any questions about applying for a Singapore visa from another country. All tourists to Singapore must comply with the following prerequisites if they require a Visa:
A legitimate travel document (minimum validity of 6 months at the time of departure)
Tickets for onward or return travel that have been confirmed (if applicable)
The next destination's entry requirements, including visas;
adequate funds to support themselves during their visit to Singapore; and
Singapore visa requirements (if applicable)
Vaccination for Yellow Fever (if applicable)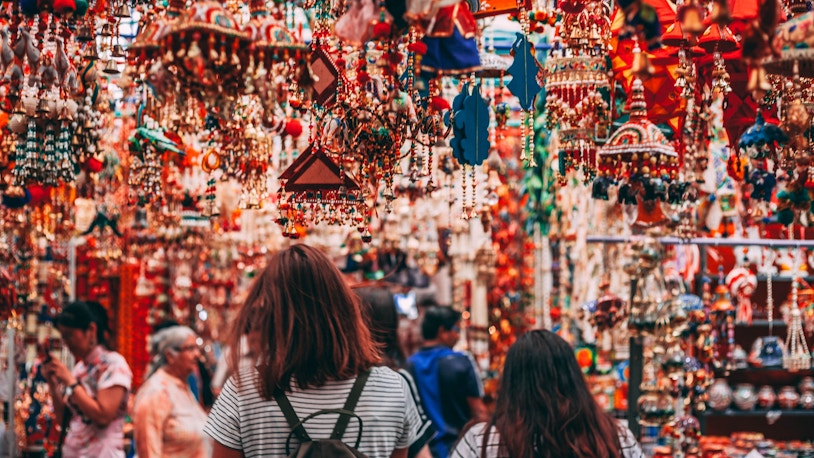 Insurance in Singapore
If you intend to travel worldwide, you should purchase appropriate travel insurance before leaving. If you already have travel insurance, check to see if it covers coronavirus-related events like medical attention and travel disruptions, as well as any planned activities like adventure sports. If you're searching for a new policy, look into how it approaches these concerns.
Analyze your policy to see if it includes coverage for medical expenses.
Make sure to carefully read your policy's terms and conditions.
Choose a policy that includes coverage for both cargo and personal property loss.
Get the plan as soon as possible, ideally before your trip.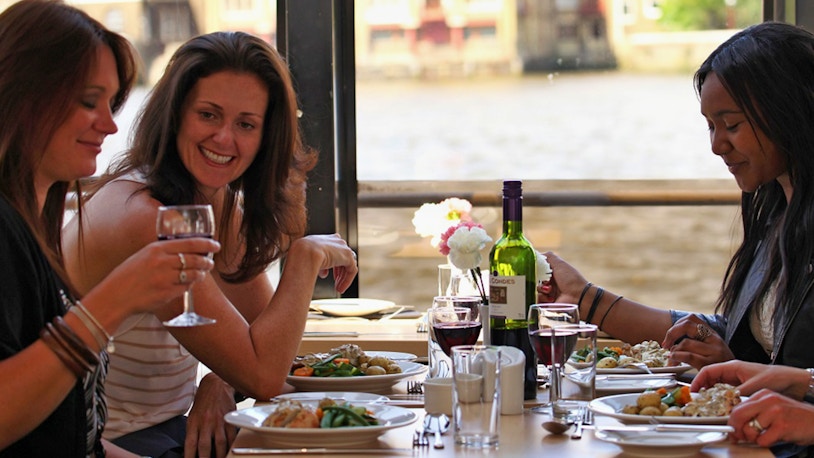 Must-Know Words and Phrases in Singapore
Ya: This means yes
Teedak: It means no
Apa Kabar: An overarching greeting when you see someone
Se la mat Jalan: Used when you are leaving, as a way of saying goodbye
Terima Kasih: This is what you say when you want to thank someone
Ta-hoo-kah ber -da ha sa Ingris?: It literally translates to "do you speak English?"
Sa-ya tee dak fa-ham: This translates to "I don't understand"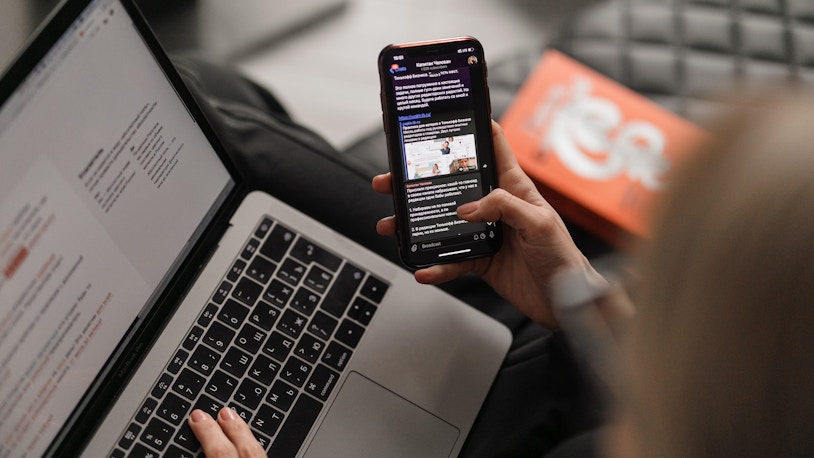 Internet in Singapore
You can also use a pocket WiFi device to access the internet from various devices. This mobile hotspot provides data access for your laptop, tablet, and/or smartphone throughout the island. This is recommended if you only carry a few devices, want WiFi connectivity, and don't plan on making many phone calls.
WiFi hotspots are also readily available throughout the island in a variety of public areas and businesses. Top internet service providers in Singapore include: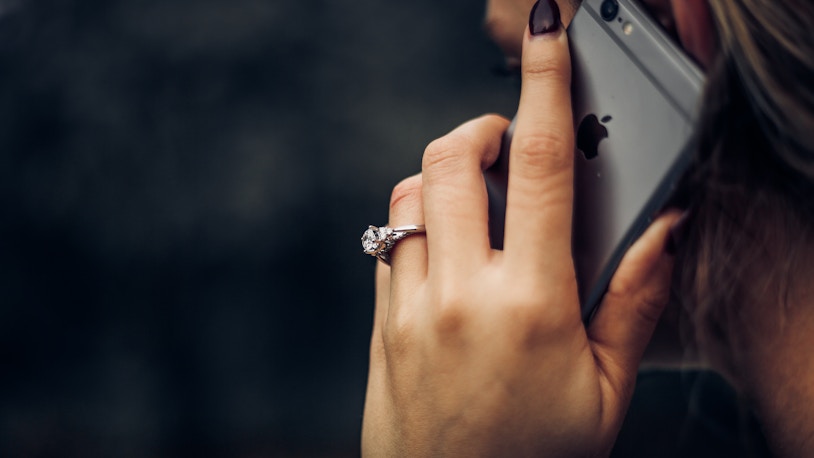 Phone Calls in Singapore
Incoming: All incoming calls in Singapore from overseas numbers are prefixed with a "+" sign followed by the country code and the phone number
Outgoing: To make a call abroad from Singapore, you need to put the service provider-specific access code, followed by the country code, and then the phone number.
If you want to keep making calls and sending texts on your phone, a Singapore prepaid SIM card is a good option.
You can select from a variety of bundles that include local and international calls, SMSs, and varying amounts of local mobile data. Typical durations range from five to thirty days or more.
Prepaid SIM cards are widely available at telco retail counters, islandwide convenience, and airports.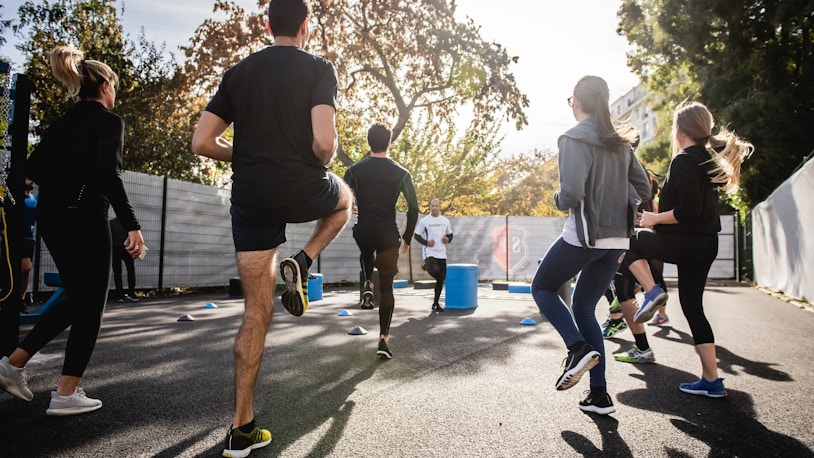 Staying Healthy in Singapore
Drink lots of fluids, juice, and other liquids to stay hydrated. A further thing you can do is keep out of the sun whenever possible. The sun can be quite potent in Singapore on bright days, and it is easy to get badly sunburned. If you must be outside in the sun, wear sunscreen. Here are a few suggestions for staying in shape while in Singapore:
Stay hydrated by drinking plenty of water.
Unless it's a well-known street vendor, avoid eating on the street.
Make sure you're getting enough sleep.
Put on some sunblock and sunglasses.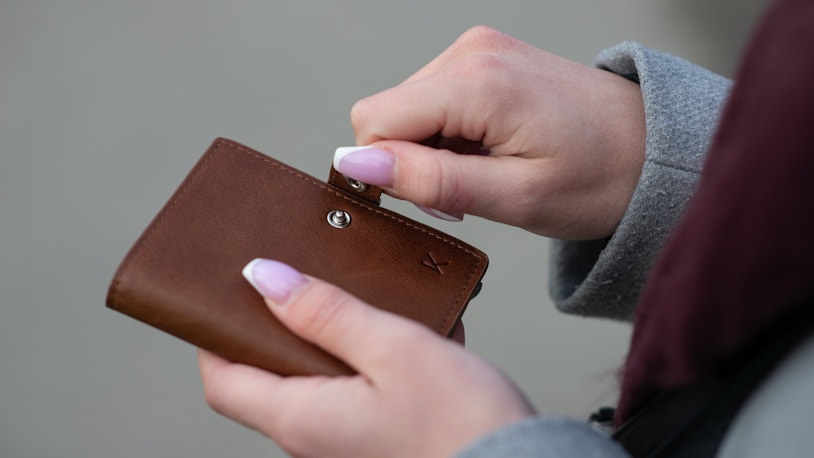 Money in Singapore
Currency: Singapore Dollars | SG$ | SGD
Although major credit card brands are generally accepted in Singapore, some merchants may charge a fee. ATMs in Singapore will accept major credit cards such as Visa, Mastercard, and American Express. Credit cards are widely used in Singapore, so look for a credit card that waives foreign transaction fees. If you want to shop in the market areas of Haji Lane, Sim Lim, and Burgis, you'll need cash. In Singapore, the following online payment methods are also accepted:
PayPal
DBS PayLah
Amazon Pay
Apple Pay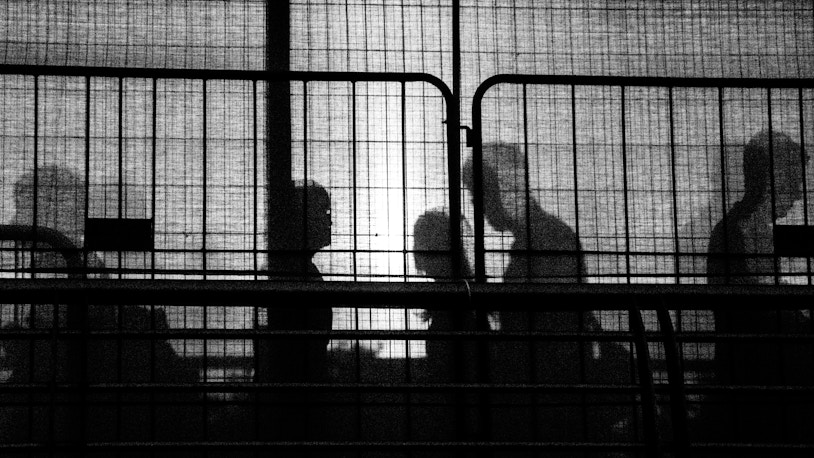 Safety in Singapore
Singapore is generally safe. Any location with a high number of visitors should be handled with caution. Here are some safety recommendations for your trip to Singapore:
Take precautions to avoid mosquito-borne diseases.
Take precautions against the Singapore haze.
In Singapore, recreational drug use is punishable by death.
Avoid getting caught up in street gatherings because they may be illegal demonstrations.
Avoid unscrupulous salespeople who approach you and invite you to their shops or massage parlors.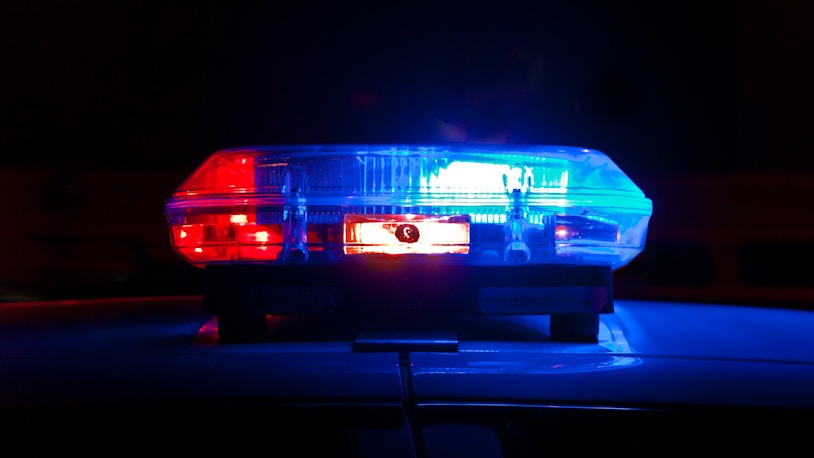 Laws in Singapore
Don't be fooled by the glitz and cultural diversity; Singapore is a city of laws. Sure, it has an impressively low crime rate, great attractions, and impeccable pavements, but tourists, in particular, should expect culture shock due to the strict laws. Here are some laws you need to know:
Walking naked in your house is illegal in Singapore. 
Chewing gum is forbidden in Singapore. 
Smoking is illegal almost everywhere in Singapore.
Irritating someone with an instrument or singing in public is punishable in Singapore
Drinking alcohol and partying between 10:30 p.m. and 7 a.m. is also punishable in Singapore
Attractions
City Tours
Museums
Themeparks
Cruises
Architecture
Shopping
Events
Know The City Neighborhoods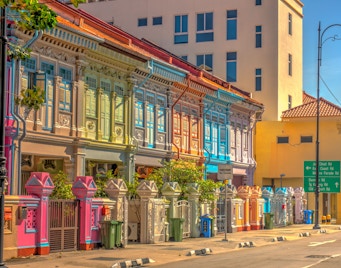 Joo Chiat
Upscale Area | Rich Heritage
Joo Chiat, located in the East Coast district, has a rich and well-preserved Peranakan legacy. Over the years, many malls and other contemporary establishments have sprouted up. But what's amazing about this Singapore neighborhood is the perfect blend of old and new that it's managed to achieve.
Things to do:
Eat  Kim Choo Kueh Chang
Walk around rows of conserved colorful Peranakan shophouses
Click photos with the multicolored houses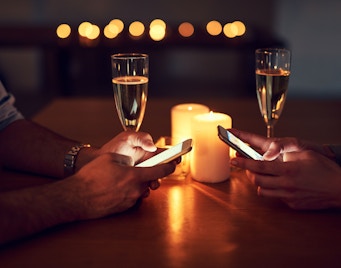 Keong Saik
Great Nightlife | Good for Solo Travelers
In the 1960s, Keong Saik was a red-light district in Singapore. Today, this neighborhood has been heavily gentrified. Many hip restaurants, bars, and cafes call the conserved shophouses home. As a result, Keong Saik is one of Singapore's best neighborhoods for a TGIF drink or a cafe date spot.
Things to do:
See the legendary Tong Ah building
Head to a rooftop bar for partying
Head to the Shake Shack for breakfast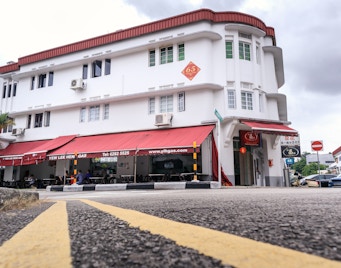 Tiong Bahru
Trendy Area | Iconic Architecture
When you walk into Tiong Bahru, you'll realize that there isn't a hipper neighborhood in Singapore than this one. From the SIT HDB flat architecture to fashionable cafes and stunning wall murals, this is one of Singapore's best neighborhoods that will keep you coming back for more.
Things to do:
Head to a cafe for a brunch
Visit the hawker stalls of Tiong Bahru Market
Stop at BooksActually, a longstanding bookstore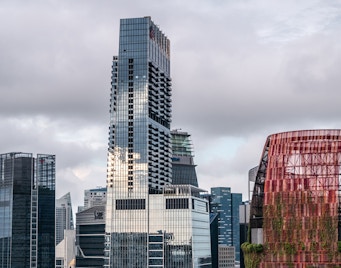 Tanjong Pagar
City Center | Cosmopolitan Vibe
Welcome to Singapore's CBD, a neighborhood surrounded by skyscrapers, flats, and condos. During the day, you'll see a steady stream of white-collared Singaporeans rushing from one location to another. Tanjong Pagar comes alive at night as people unwind at restaurants and bars along the streets and even underground.
Things to do:
Head to the world's tallest public residential building, The Pinnacle @ Duxton
Gorge on Korean food
Party to your heart's content at one of the nightclubs in the neighborhood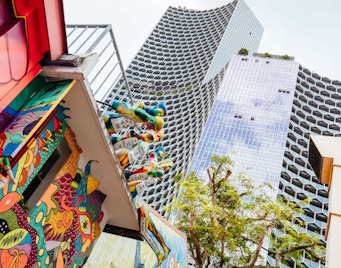 Haji Lane
Artistic Neighborhood | Unorthodox
Narrow streets lined with adorable shops, kitschy cafes, and chill bars that exude major indie vibes whether it's daylight or nightfall. That would be Haji Lane for you. Not to mention the vibrant and eye-catching graffiti walls that make this neighborhood stand out like no other. It's no surprise that this is one of Singapore's most interesting communities to visit.
Things to do:
Visit the Meomi Cat Cafe
Visit the cafes of the neighborhood after sunset for the live music
Have your supper at the historic Zam Zam Restaurant
Dempsey Hill
Offbeat | Photogenic
Dempsey Hill, a lesser-known albeit uber-trendy neighborhood, is tucked away from the city and surrounded by lush greenery. What was once a sprawling nutmeg plantation is now a cozy enclave filled with tasty bistros and small boutiques. With so much to offer, Dempsey Hill is without a doubt one of the trendiest neighborhoods in Singapore to discover and hang out in.
Things to do:
Explore the parks and gardens of Dempsey Hill
Visit the boutique stores of the neighborhood
Spend a relaxing day at the National Orchid Garden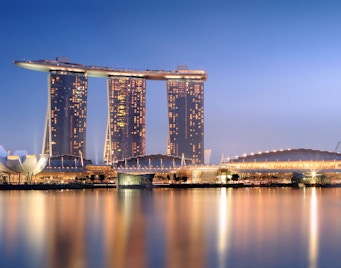 Marina Bay
Glitzy | Tourist Hotspot
With the onset of splendid modern architecture, world-class hotels, and a slew of new bars and restaurants in recent years, the Marina Bay area has truly matured. Because of its closeness to the Central Business District, this is a famous area for business visitors, and the abundance of entertainment options assure that general tourists flock to the area as well.
Things to do:
Take in the views of Singapore from Marina Bay Sands
Visit the ArtScience Museum
Experience fine dining at One Fullerton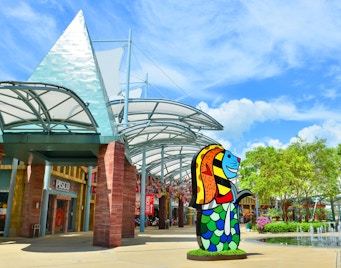 Sentosa Island
Family Friendly | Upscale
Sentosa is home to a slew of world-class tourist spots and beachfront resorts. With a 24-hour casino and Southeast Asia's only Universal Studios theme park, the opening of Resorts World Sentosa in 2010 raised the bar for island entertainment to new heights. The city's sun worshippers and beach-sport enthusiasts flock to the city's southern beaches – Siloso, Palawan, and Tanjong – on weekends, while beachside bars pump out thumping tunes.
Things to do:
Go to the theme parks on the island
Visit the beach clubs
Enjoy a family-friendly stay at Shangri-La Rasa Sentosa
Must-Try Singaporean Food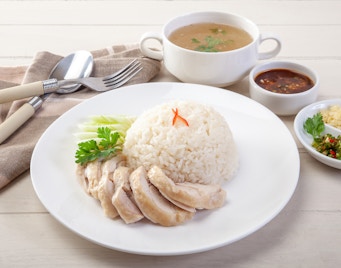 Hainanese Chicken Rice
Hainanese Chicken Rice, which can be found at almost every dining establishment in Singapore, whether it's a fine dining establishment or a humble hawker center, can be considered Singapore's unofficial national dish. It is bite-sized slices of chicken or whole chicken served with fragrant rice, ginger paste, and spicy chili, adapted from the early Chinese immigrants from Hainan Island.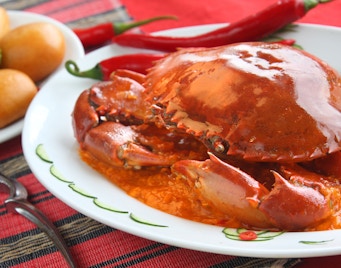 Chili Crab
CNN Go ranks Singaporean chili crab as the 35th most delicious food in the world. It is a stir-fried crustacean dish drenched in sweet, spicy, and savory tomato sauces. This Singaporean street food, served with deep-fried buns called mantou, is a must-try for seafood lovers. Crabs are cooked in two ways in Singapore: with a delightful, spicy tomato-ish chili sauce or with black pepper sauce.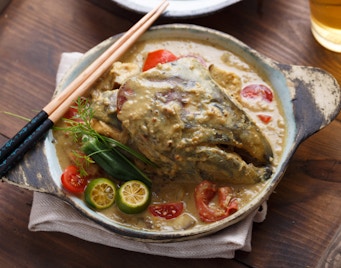 Fish Head Curry
With beginnings in Kerala and Malaysia, this delicious Singaporean street food is best eaten with rice or roti. Curry Fish Head is an enigmatic dish that originated in South India but was inspired by Singaporean culture. Red snapper is prepared in curry with boiled vegetables, either whole or half head. It contains a variety of strong spices. Variations include Assam-style Fish Head Curry, which has a tamarind flavor.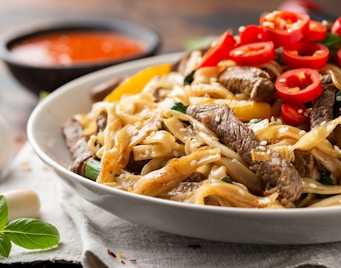 Char Kway Teo
This Singaporean street food, which literally translates to "stir-fried rice noodles," is a hawker center staple that sells out quickly. This combination of noodles, flat rice, and egg noodles, stirred proteins like egg, and Lap Cheong, which are Chinese sausages, will appeal to your taste buds. It's also seasoned with Chinese chives and bean sprouts.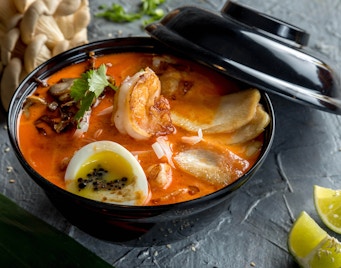 Laksa
This customary Peranakan dish is popular on the Singaporean streets for good reason. Laksa, which is made of flat noodles, coconut soup, fish cakes, prawns, and cockles, goes best with Otah, which is a fish cake served in banana leaves. It is a fusion of Chinese and Malay cuisine and comes in two varieties: Asam Laksa and Curry Laksa.
Must-Try Singaporean Desserts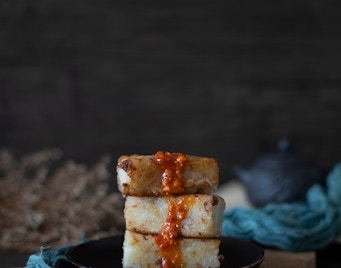 Fried Carrot Cake
Fried Carrot Cake, a popular Singapore street food, is oddly a black and white dish rather than the bright orange dessert carrot cake. It is created with eggs, chai ooh, and white radish flour cake, which is essentially a white carrot (radish) that gives rise to carrot cake. The fried carrot cake, known as 'Chai Tow Kway' in Teochew, is provided with a sweet sauce on top of a beaten egg to generate a crust and chunks of cake.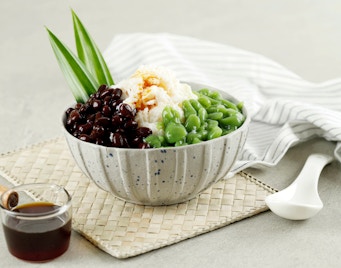 Ice Kachang
This delectable Malaysian dessert literally translates to "iced beans." This cold dish is a favorite of both children and adults, and it is comprised of shaved ice, red beans, grass jelly or agar-agar, sweet-flavored syrups, and toppings such as sweet corn and other goodies. Ice Kachang comes in a variety of flavors, including chocolate syrup and durian, and is the ideal way to round out your Singapore street food tour.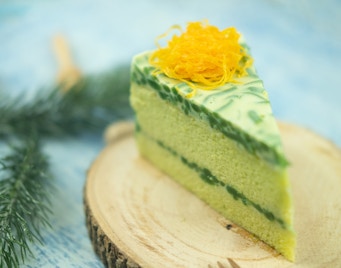 Pandan Chiffon Cake
Pandan Chiffon Cake, also known as the Green Cake, is one of Singapore's most popular desserts. This cake is said to be Indonesian and Malaysian in origin. It is visually appealing due to the beautiful green color. This color is caused by the juice of Pandan leaves. Another important ingredient in this dessert is coconut milk, which adds a rich and creamy flavor. This is also a popular ingredient in Asian cooking.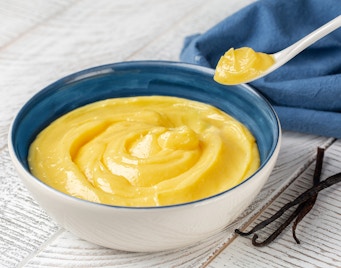 Durian Pengat
Durian Pengat has a long history in the Malay and Peranakan populations. In Singapore, durian is one of the most prominent and commonly consumed fruits. It is eaten as a fruit or added to a variety of dishes. Pengat is a dish made by cooking root vegetables or fruits in a coconut milk and sugar mixture. Durian Pengat is made by cooking the fruit until it resembles a smooth mousse. Durian pieces can be used to jazz up the dessert.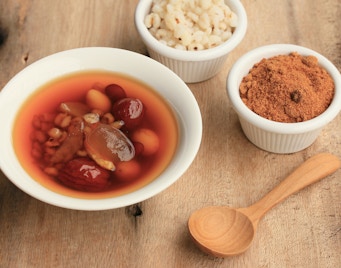 Cheng Tng
This sweet soup, which originated in traditional Chinese cuisine, is one of the greatest desserts for Singapore's weather. Cheng Tng translates to 'clear soup,' and it also contains lotus seeds, red dates, barley, longans, sago, and white fungus. It can be ingested hot or cold and is thought to have soothing and nourishing properties. In comparison to other creamy and chunky desserts in Singapore, it is a light dessert.
Where to Stay in Singapore
Singapore has tens of thousands of lodging options, which can be overwhelming. When it comes to choosing a place to stay, the most important factor is usually the budget. This guide will give you all of the information you need about the options available for various budgets. This list includes everything from five-star hotels and boutique experiences to low-cost backpacker hostels.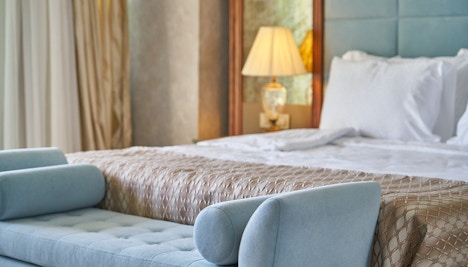 Budget Hotels
Staying in Singapore might be pricey, but if you know where to search, you can discover some amazing affordable hotels. In Singapore, there are innumerable low-cost hotels that will provide you with a pleasant experience without breaking the bank. Some of the best budget hotels are as follows: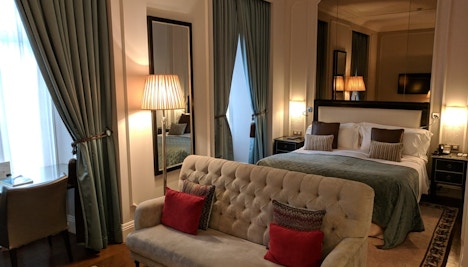 Mid-Range Hotels
There are plenty of mid-range options in Singapore if you want more customary hospitality, regardless of your budget. The Marina Bay, as well as Sentosa Island, are among the most sought-after hotel locations. The following are some of the best mid-priced hotels: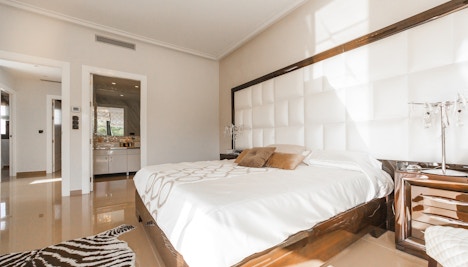 Luxury Hotels
There are several alternatives in Singapore for a more opulent hotel experience. When compared to other premium hotels around the world, some highly-rated deluxe hotels are considered to be quite affordable. Here are a few examples of the priciest hotels in Singapore: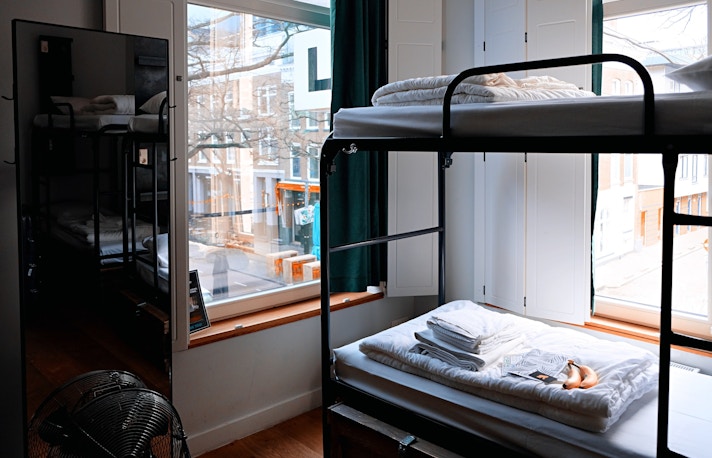 Hostels
Hostels in Singapore can be a great alternative for those on a tight budget. Not only are they less pricey than typical hotels, but they also provide a more genuine Singapore experience. While residing in a hostel, you will be able to encounter new individuals and make new friends, and you will most probably get to know the nearby neighborhoods quite well.
Golden Hostel
RedDoorz Hostel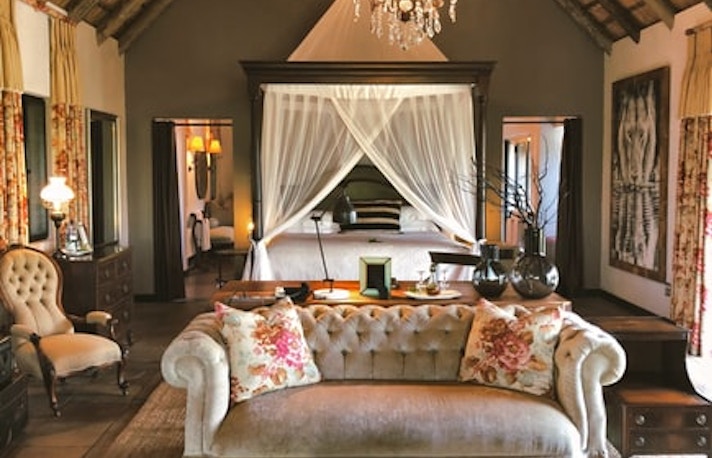 Boutique Hotels
If you want an exquisite and one-of-a-kind hotel feel in Singapore, a boutique hotel may be the best choice for you. Smaller hotels offer a more romantic and individualized experience, with many incorporating distinctive design elements and/or themed rooms.
Where to Shop in Singapore
There is no denying that shopping in Singapore is one of the best experiences in the country. The country is a true paradise for every Shopaholic, as it is one of the world's best locations for buying almost everything at low prices. Singapore is one of the best locations to shop because of the variety it provides. The island nation is also among the best places to buy items at low prices, from appliances to electronics, clothing to shoes.
Singapore With Kids & Family
Whatever your kids are interested in, whether it's the arts, science, or sports, there is plenty of physical challenges, cool exhibitions, and edutainment fun to keep them occupied. Furthermore, we believe that school vacations should be used for exploration and the creation of happy family memories.
Art & Culture in Singapore
Singapore, as one of the world's main global cities, has a substantial effect on the arts, commerce, education, entertainment, fashion, finance, health care, media, tourism, and transportation. As a result, it is not surprising that Singaporean art and culture are globally relevant. A visit to the city of Singapore, with its diverse tourist attractions, will ensure that you witness the city's thriving art and cultural scene with your own eyes: an encounter more valuable than anything one particular landmark in Singapore may have to offer.
Entertainment in Singapore
If you are looking for entertainment options in Singapore, you are in luck. With the number of tourists, it gets all year round, the little island country has quite an advanced entertainment scene. Singapore has several theme parks and other attractions that would keep you entertained throughout your stay. Here are some of the best entertainment options in Singapore:
Frequently Asked Questions About Traveling to Singapore
What is the best time to visit Singapore?
The best time to visit Singapore is in the months of May, June, October, and November.
Singapore's weather is always pleasant, with temperatures of about 32°C throughout the day and 25°C at night from December to January, while the remainder of the year sees temperatures of around 33°C during the day and 26°C at night.
If I have only one day in Singapore, what are the must-see attractions?
The Singapore Flyer, Gardens by the Bay, and National Gallery Singapore are the must-see attractions if you are in Singapore for just one day.
What to see in Singapore after dark?
You must see Marina Bay Sands in the dark in addition to the Merlion.
Where are the best places to eat in Singapore?
The best places to eat in Singapore are located in the central area of the city, like Rosso Vino, MTR Singapore, Colony, and Alaturka Mediterranean & Turkish Restaurant.
What are the languages spoken in SIngapore?
English, Malay, Mandarin, and Tamil are spoken in Singapore.
What are the live entertainment options in Singapore?
The live entertainment options in Singapore include live music shows, concerts, theatrical performances, and operas.
What should I pack for Singapore?
For Singapore, you should always pay close attention to the weather forecast. The weather will be hot and you will require breathable clothing. It also rains in Singapore quite often throughout the year, so be sure to carry waterproof clothing.
What to look out for in Singapore?
Pay attention to the rules and regulations of Singapore, do not run traffic lights, avoid recreational drugs, and do not litter when you are in Singapore.
Where can I stay in Singapore?
You can stay in one of Singapore's many hotels, which cater to a wide range of budgets. There are also boutique hotels and hostels in the city. Those looking for a more peaceful experience should stay close to Dempsey Hill, while those looking to be in the middle of the action should stay in Marina Bay.
What are the most popular tourist destinations in Singapore?
The most popular tourist spots in Singapore are Marina Bay Sands, Gardens by the Bay, Sultan Mosque, National Museum Singapore, and the Singapore Flyer.
What is the best way to get around Singapore?
The best way to get around Singapore is through the bus and metro network.