A Guide to Visiting Singapore in October | Attractions, Events, Weather & More
Contents
One of the most popular travel destinations lying on the South Asian seas is  Singapore. In a short period, Singapore has grown into one of the most sought-after tourist destinations while also being a major economic hub of the world. From the magnanimous Gardens By The Bay to the luxurious Marina Bay Sands, from the world-famous Merlion statue to the Universal Studios, Singapore has it all, and a lot more. Although it draws visitors across the calendar year, here's why October is a great time to visit Singapore!
Is October a Good Time to Visit Singapore?
October is one of the best times to visit Singapore as it offers the benefit of being an off-season, making the trip more affordable than peak seasons. Along with warm and humid days during October, there is more rainfall during the month, making it one of the cooler months. 
Why You Should Visit
Expect fewer tourists than in other months, offering you some more space to explore the city.
Warm mornings are usually backed by spells of rainfall making it a perfect time for exploring both indoor and outdoor experiences.
Choose between a range of global events from concerts by pop stars like Justin Bieber to international conferences such as the Asia Crypto Week, Global Ports Forum, and more.
Make the best of the off-season prices during October and explore as many attractions as possible.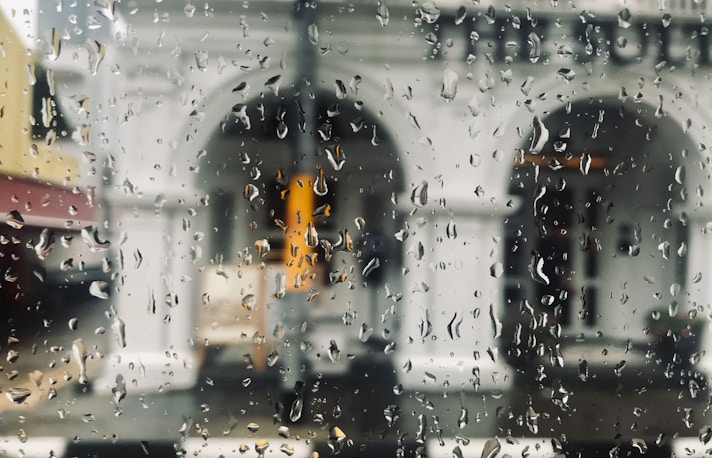 What to Look Out For
Keep an eye out for sudden rains.
Make backup plans in case of a rainy situation as there are many indoor options too.
Make sure you are not quoted peak season prices for accommodation.
Overview of Weather in Singapore in October
Singapore usually has a tropical climate with warm and humid days. In October, the temperatures can range between 25 degrees C to 35 degrees C. More rainy days make the weather pleasant on most days keeping the afternoons warm and nights usually cool. 
Average Temperature: High - 35 degrees C Low - 25 degrees C
Average Rainfall: 190 mm 
Daily Wind Speed: 7.3mph. Moderate Winds, Light Breeze
Temperature of the sea: 29.3 C
Best Time to Visit Singapore
Best Things to do in Singapore in October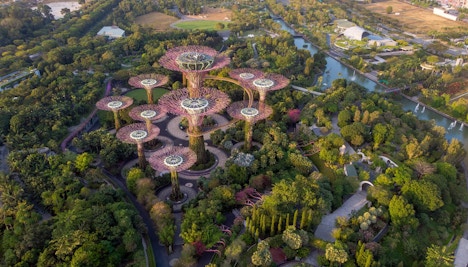 1. Gardens By the Bay
Gardens | Tourist Hotspot 
The grandest expression of gardens, hanging in the beautiful skies of Singapore, these lush gardens take your breath away. Many intricate floral designs and gardens portray a variety of cultural themes. Spread over 101 hectares in the heart of Singapore, it was built with an intention to turn the 'Garden City' into a 'City in A Garden'. Soak in its aesthetic appeal while marveling at the vision behind such a massive project. The tropical weather of October makes the experience as raw as it gets. 
October Timings: Outdoor Gardens: 5 am to 2 am | Cloud Forest and Flower Dome: 9 am to 9 pm
from S$20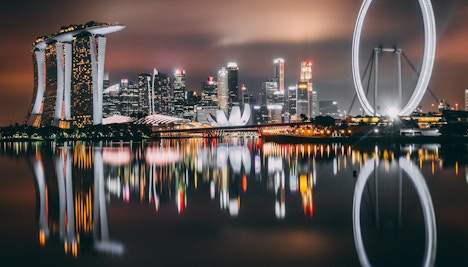 2. Singapore Flyer
Observation Wheel | City Views
Hang in the air with your jaw-dropping, as the gigantic Singapore Flyer gives you the most exhilarating view of the island. If the skies are clear, you can see as far as Malaysia and Indonesia from the flyer. It is the world's third-largest Ferris wheel at a height of 165m and has 28 capsules that can house up to 8 persons each. It is an experience that cannot afford to miss being in Singapore. 
October Timings: 3 pm to 9 pm from Thursday to Sunday
from S$33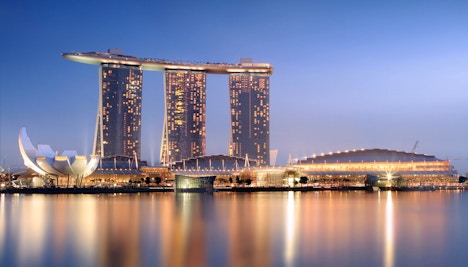 3. Marina Bay Sands
Luxury Stay | Panoramic View 
Overlooking the beautiful Marina Bay is the Skypark on the terrace of the high-end hotel, Marina Bay Sands. At a height of 340m above the ground, treat yourself to an experience of being on top of the world. The ship-shaped terrace of the Bay Sands offers restaurants and a peek of the world's longest infinity pool. Imagine being there in the light spells of rain that October brings!
October Timings: 11 AM to 9 PM
from S$22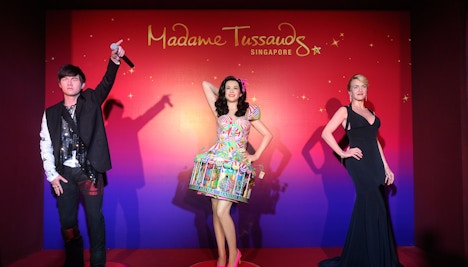 4. Madame Tussauds Museum
Wax Museum | Global Hotspot
Make your way into the world of the most popular faces of the 21st century. Madonna, Michael Jackson, Bollywood actors, sports stars, and more are all waiting for you to click a picture with them at Madame Tussauds. Enjoy the Marvel Universe in 4D while also getting a realistic feel of the F1 track of Singapore. Not to forget the boat ride that takes you through fantastic tropical gardens.
October Timings: 11 AM to 7 PM excluding Tuesdays and Wednesdays
from S$30.84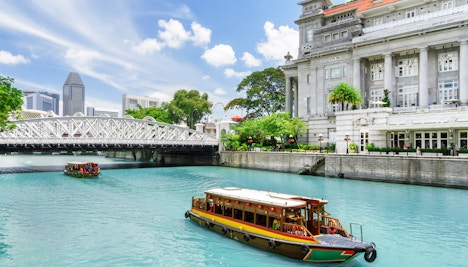 5. Singapore Cruises
Sightseeing 
Being home to small islands while surrounded by the South China sea, Singapore offers one of the best cruise experiences you've ever had anywhere in the world. Take the Royal Albatross Sail to get a vintage feel, or the Singapore River Cruise to get the best sights of the heart of the island. You can also pay visits to islands like the Kusu, Lazarus, and more while you take the special Island Cruise. Don't forget how wonderful it would be to float on the waters on a hot October afternoon in Singapore.
from S$25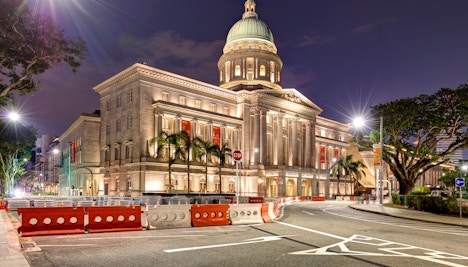 6. National Gallery Singapore
Museum | Learning Experience 
Housing more than 8000 artworks, the gallery is the world's biggest public collection of art from Southeast Asia and Singapore. Plunge into the evolution of the island as you venture into the two permanent galleries - DBS Singapore Gallery and the UOB Southeast Asia Gallery. Enjoy a whole range of work from the 19th century up until the 21st century where curators display various artworks and modern techniques. 
October Timings: 10 AM to 7 PM 
from S$14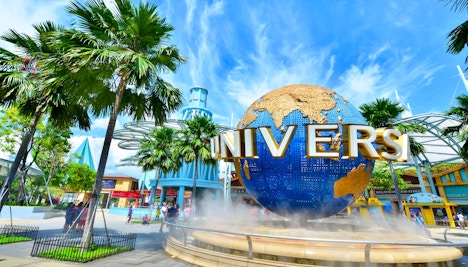 7. Universal Studios
Family Themepark | Tourist Hotspot
Needing no introduction, this iconic landmark is a must-visit! Enjoy a variety of activities ranging from the hugely popular live act 'Waterworld' to the head-spinning roller coaster rides. It would be a sin to miss the Transformers Ride especially. The 7 theme zones in the studios take you from Ancient Egypt to Hollywood, New York, and many exciting worlds. Souvenirs from the Universal Studios are prized possessions of many and they must surely be on your journey, back home.  
October Timings: 12 PM to 7 PM 
from S$73.20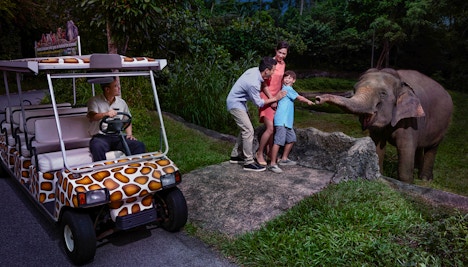 8. Night Safari Singapore
Learning Experience | Safari
A spectacular experience of a variety of animals and natural habitats at night is what makes the nocturnal safari so exciting. Guided by audio played throughout the safari in the tram, you learn about more than 100 species of animals from the Himalayas, Burma, Equatorial Africa, and more. In the end, treat yourself to the Creatures of The Night show which draws huge attention at this safari venue. 
October Timings: 7:15 PM to 11:15 PM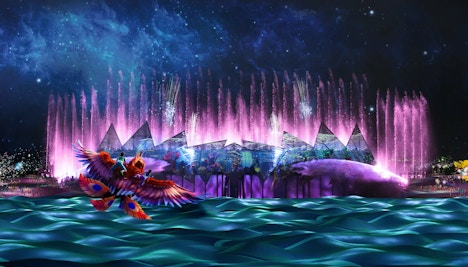 9. Wings of Time
Laser Display | Live Show
Being one of the most unique shows in the world, the laser display happens on a mammoth water screen. Sitting by the beach on Sentosa Island, get enthralled by the award-winning, hair-raising storytelling experience that the Wings of Time offers. The brilliance of art and modern technology coming together is what this show is a great exponent of. 
October Timings: 9 AM to 9 PM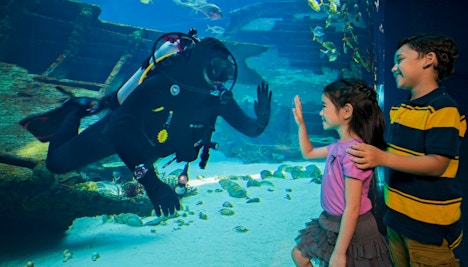 10. SEA Aquarium
Marine Life | Underwater Experience
Giving you an almost-real underwater experience, the SEA Aquarium will mesmerize you with its 800+ species of underwater animals, exhibiting more than 49 habitats. Walk past the glass-covered areas as you see professional divers in the waters along with some underwater animals. You could also choose to have a meal at the Ocean Restaurant, which has its appeal. 
October Timings: 10 AM to 5 PM

from S$41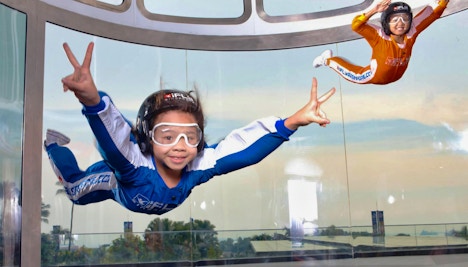 11. iFly Singapore
Indoor Adventure | Kids-Friendly
Do you fear jumping off a cliff or an airplane? You must then make your way to iFly Singapore. Within a short while of getting guidance from the instructor, you will be ready to fly for 45 seconds in the air and do your moves! With protective gear on you, feel free to explore the moves you have while killing the fear of heights. 
October Timings: 10 AM to 7.30 PM
from S$79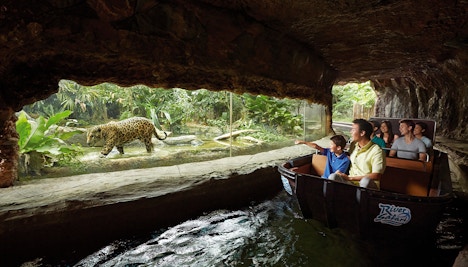 12. River Wonders
River Safari
If you care for the river bodies of the world, this is your go-to experience. The River Safari gives you a taste of the various natural rivers such as the Nile, Amazon, and many more. Learn about more than 200 species that are on the verge of being endangered and also enjoy the boat ride on the river safari that spreads across more than 12 hectares. 
October Timings: 10 AM to 6 PM
from S$38
Festivals in Singapore in October Singapore Cocktail Festival
Date: TBD
Venue: Multiple Venues
If you're heading to Singapore in October, you must not miss the Singapore Cocktail Festival. The dates of the 2022 edition are still not announced but the festival is expected to happen in October. This festival is the largest cocktail event in all of Asia and allows you to explore drinks, styles, and fusions from different parts of the world from the best bartenders and renowned cocktail makers. You also get to enjoy bar pop-ups and tasting booths. 
Know more Deepawali
Date: 24th October 2022
Venue: Multiple Venues
This annual festival in October is celebrated on the 24th. Celebration of lights is what Deepawali is and it signifies the victory of light over darkness. Don't miss visiting Little India during this time as celebrations intensify with lots of colors, games, and cultural practices. The whole of Singapore lights up during Deepawali with firework displays in iconic locations such as the Marina Bay Area. A sight of the island during Deepawali is a sight to behold. 
Events in Singapore in October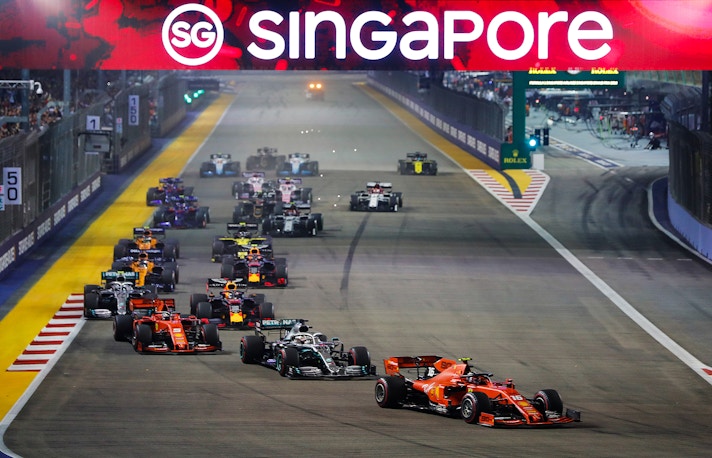 Singapore Grand Prix
Date: 2nd October 2022
Venue: Marina Bay Street Circuit
The Marina Bay Street Circuit comes to life every year for the coveted F1 Singapore Grand Prix. This motorsport event draws thousands every year led by a line of top international F1 drivers. This year, catch all the racing action live in Singapore on the 2nd of October. Don't miss out on this opportunity!
Know more Justin Beiber Justice World Tour
Date: 25th October 2022
Venue: National Stadium
This October, pop star Justin Beiber makes his way to Singapore which is one important event you would not want to miss. Happening on the 25th of October at the National Stadium. 
Know more
Know Before You Visit Singapore in October
Travel Essentials
What to Wear
What to Pack
Transport
Stay
Food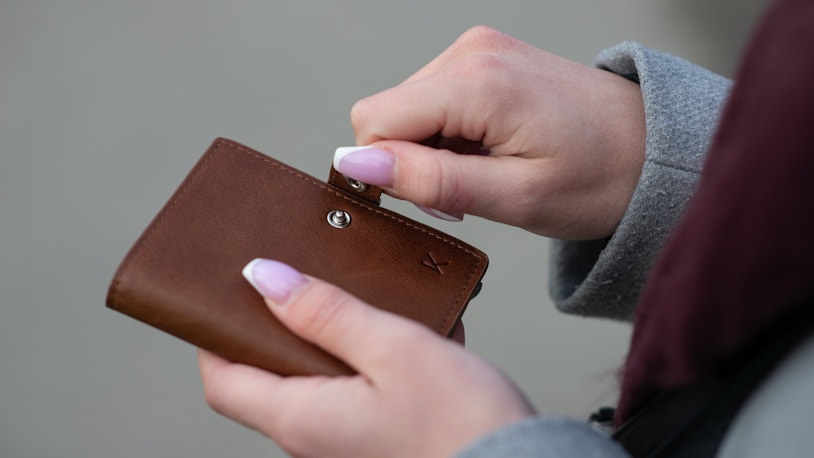 Time Zone: GMT +8 
Currency: Singapore Dollars (SGD) 
Country Code: +65
Emergency Numbers: 999 (police), 995 (Fire and ambulance)
Travel Guide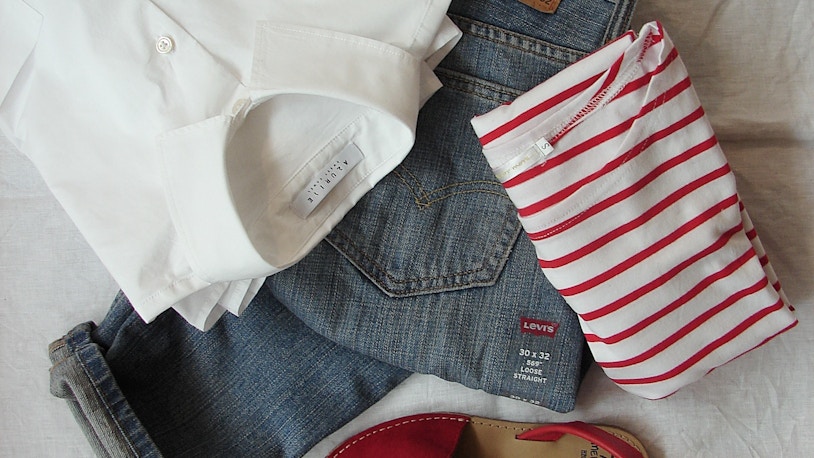 What to wear in Singapore in October
Humid and warm daytimes in October advise light cotton clothing, preferably tees and loose trousers.
Wearing a hat to keep yourself safe from hot afternoons is recommended.
Comfortable footwear is also a good idea for strolls across the city.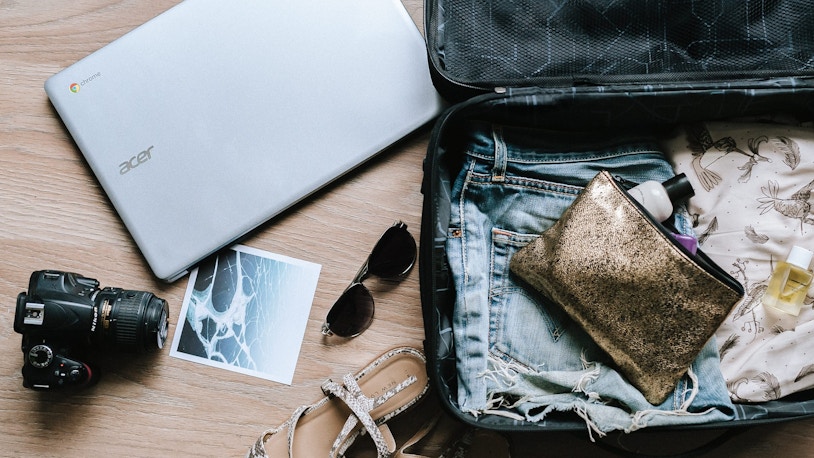 What to Pack in Singapore in October
It would help to carry a raincoat for the unprecedented spells during evening hours.
A travel adapter compatible with type G and C cables/ports.
Sunscreens and sunglasses for use during the hot afternoons.
Bags as needed for your purpose.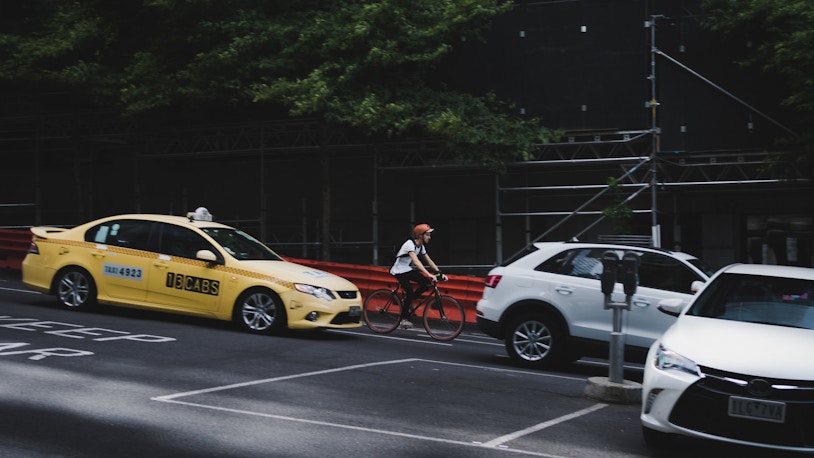 Getting Around Singapore in October
By MRT: The MRT is the most popular mode and connects all parts of Singapore. It is affordable and may cost not more than S$2.50. You could take a pass for one, two, or three days which cost S$10, S$16, and S$20 respectively.
By Bus: Buses are also made available which are frequent and reliable by the MRT 
By Taxi: Taxis are easily available and most drivers also speak English. It may cost anywhere between S$2-5 per kilometer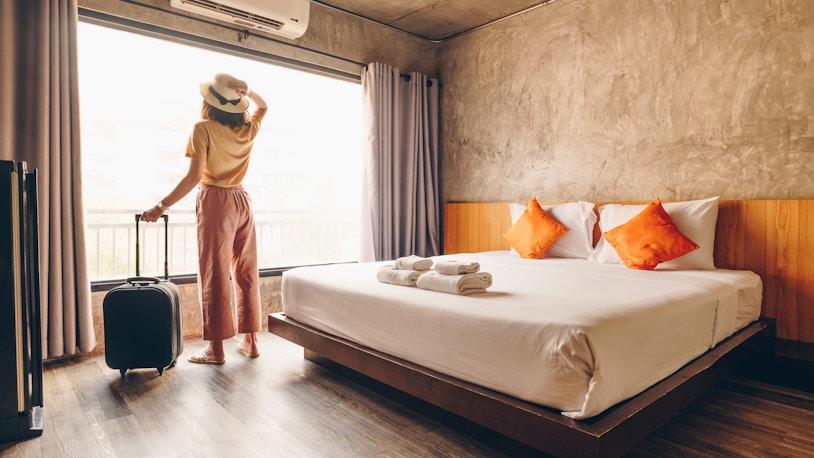 Where to Stay in Singapore in October
Singapore offers some of the best stay options in the world for tourists. It may get expensive to find accommodation in Singapore. However, prices during October are reasonably cheaper. 
Budget Hotels: Four Chain View Hotel, Champion Hotel, Hotel 81, ibis budget  
Mid Range: Arcadia Hotel, The Quay Hotel, RELC International
Luxury Hotels: Marina Bay Sands, Concorde Hotel, Capri by Fraser, Sheraton Towers Singapore, Raffles Hotel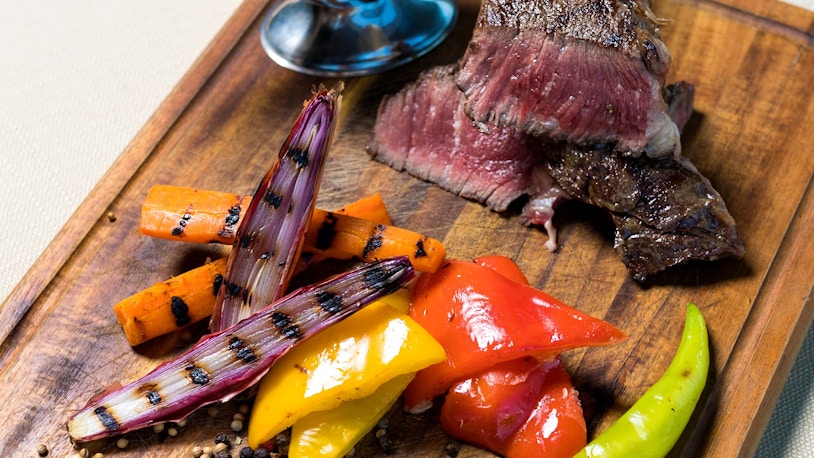 What to eat in Singapore in October
Singapore is popular for its unique blend of South Asian delicacies which draw inspiration from India, Japan, China, and other prominent countries in the region. Here are some dishes we suggest. 
Chilli Crab: The most popular dish in Singapore, this is a must-try. While the crab has its taste and quality, the skill comes in making the sauce that comes with it. Many varieties of Chilli Crab await you. 
Laksa: In case it rains in October, don't miss out on the soupy, spicy, noodle-dish Laksa. Try the popular varieties of Penang, Sarawak, and Katong Laksas, each having its own essence. 
Rojak: A popular salad that comes in various blends of not just tastes, but of cultural influences too. A mix of spices, vegetables, and fruits with a variant of sauce makes Rojak a dish not to be missed. 
Explore Singapore Through The Year
Frequently Asked Questions About Visiting Singapore in October
Is October a good time to visit Singapore?
Yes, October is a great time to visit  Singapore as there are some rains to ward off hot weather.
What are the best things to do in Singapore in October?
The best things to do in  Singapore include visiting Gardens By The Bay, taking a ride on the Singapore Flyer, Island Cruises, and spending a day at the Universal Studios.
Is Singapore cold in October?
No, it is warm and humid in October.
How hot is Singapore in October?
The temperature ranges from 35 C in the afternoons to as low as 25 C at night.
Is it sunny in Singapore in October?
Yes, it is sunny. You can expect 6 hours of good sunshine during the day.
What clothes to wear in Singapore in October?
It is best to wear loose, cotton clothes to offset the heat. Tees and loose trousers are best.
Is it rainy in Singapore in October?
Yes, October has 15-16 rainy days.
Is Singapore expensive to visit?
It is generally expensive to visit Singapore, however, October is a great month to visit as prices are lesser owing to off-season.
Singapore is extremely safe and help from the administration is readily available.
What can I see in Singapore in October?
Among the many major attractions, the visit to Night Safari, Wings of Time show at Sentosa Island, and SEA Aquarium are among the noteworthy things to see.
What are the major events in Singapore in October?
Singapore is home to many international conferences and events. The Singapore Grand Prix and Justin Bieber's concert are major events in October 2022.
What is the average temperature in Singapore in October?
The average temperature is 32C during October.
What are the best things to do with Kids in Singapore in October?
The Night Safari, Universal Studio visit, Tayo Station, and iFly Singapore are some places kids would love to experience.
What are the main festivals in Singapore in October?
Singapore Cocktail Festival, and Deepawali Celebration are among the main events of October.