Discover a unique view of Singapore with Sentosa Cable Car
Contents
Skyline Luge is a unique attraction packed with fun, entertainment, and adventure. Being the first of its kind in Southeast Asia, it has grown to become a must-visit and a hotspot for fun-loving tourists. 
Test your driving skills on the thrilling trails designed with slopes, tunnels, and turns, or hop on the Skyride for a scenic view of the garden city. Either way, you won't be disappointed after your visit to Skyline Luge Sentosa. 
Head on over to Sentosa Island and check out this action-packed activity. It is suitable for all ages and the perfect way to add some excitement to your visit!
Skyline Luge Tracks
At Skyline Luge, you can choose from four different tracks to ride on: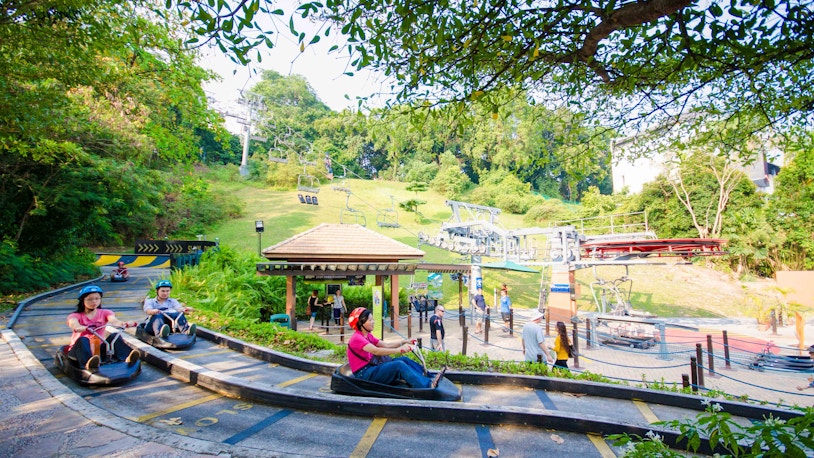 Dragon Trail: Weaving through the forest, the Dragon Trail is the longest track of all at 688m.
Kupu Kupu Trail: Kupu Kupu is Malay for butterfly, and this 638m trail makes you feel like one as you ride down and feel the breeze in your hair.
Expedition Trail: Head through the forest and tunnels with unpredictable twists and turns for your dose of adrenaline at this 658m track.
Jungle Trail: Your ride begins in a tunnel covered with different plants, and as you go down the 628m trail you will encounter sharp corners and long straight tracks.
Other Sentosa Attractions
Sentosa Island is not just famous for its natural beauty, pristine beaches, and the surrounding aquamarine sea, but also its many attractions. Here are a few to look out for.
Skyline Luge Sentosa: FAQs
What Skyline Luge tickets can I pick from?
You can choose between a standard ticket, a priority pass, and a special pass ticket (which will give you access to 3 attractions out of 5 Sentosa Island attractions).
How long is my Skyline Luge ticket valid for?
Sentosa Skyline Luge Tickets and Priority Express pass tickets are only valid for the date and time of the booking. They cannot be cancelled or rescheduled. For the Jolly Sentosa Special Pass C tickets, you have 7 days to visit all attractions from the first day of ticket redemption.
Can I cancel my Skyline Luge ticket?
Tickets cannot be cancelled or rescheduled. Check your tickets for a detailed look at the cancellation policy for each ticket.
What are the timings of Skyline Luge?
On Sundays, Mondays, and Thursdays, the Luge is open from 11 AM to 7:30 PM and from 11 AM to 9:30 PM on Fridays and Saturdays.
Is Skyline Luge wheelchair-friendly?
Skyline Luge is not wheelchair accessible. It is also not suitable for people with physical disabilities or bad knees as the tracks go downhill.
Is there a storage facility at Skyline Luge?
Yes. Lockers are available at Skyline Luge for a small fee.
How long is the ride at Skyline Luge?
It takes about 15 - 20 minutes to complete a track at Skyline Luge, however, it might take longer during peak days and public holidays when there are more people at the premises.
How many different tracks are there at Skyline Luge?
There are 4 different tracks to choose from - Kupu Kupu, Expedition, Jungle, and Dragon Trail, each with its own exciting features.