Singapore in Winter | Weather, Things to do, Packing Checklist, Travel tips & More
Table of Contents
Singapore is a land of contrast and diversity, where East meets West and a fusion of cultures creates a unique melting pot of traditions, cuisines, and languages. With its cosmopolitan cityscape and tropical climate, it's easy to fall in love with Singapore. The island state has something for everyone – whether you're looking for high-end shopping, world-class cuisine, or simply a place to relax and soak up the sun. Visiting Singapore in winter is the perfect opportunity to experience all that this vibrant city has to offer without the crowds and heat of the summer months.
Why visit Singapore in Winter?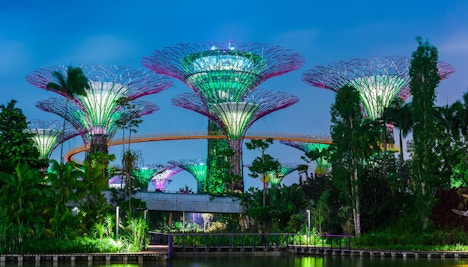 Ideal Temperatures
During the months of December through March, temperatures in Singapore are at their lowest, making it a perfect time to visit! As long as the weather is pleasant and appealing, it's a fantastic time to go exploring as well as indulge in other outdoor pursuits in the city!
Soothing Warmth
The milder shroud of brightness that covers Singapore in winter is a refreshing change for those seeking the ideal holiday.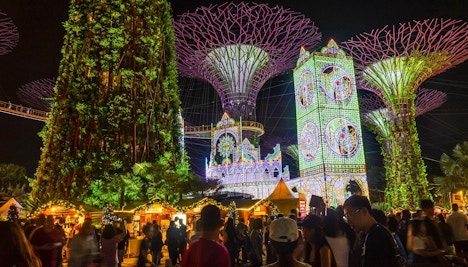 Winter Festivities
Expect a relative humidity of 86.5% and a temperature of roughly 26°C. Throughout December, Singapore hosts a variety of Christmas-themed events.
What to Look Out for in Singapore in Winter?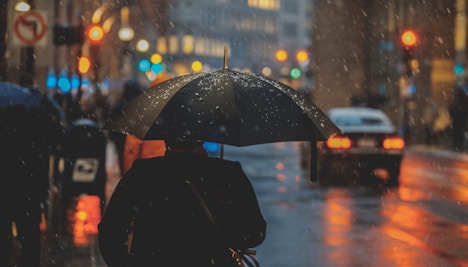 Humidity and Rain
Singapore is known for its year-round heat and humidity. In spite of winter's lull, tourists visiting Singapore in December must be equipped for the season's worst rains.
High Tourist Footfalls
December through June is Singapore's busiest tourist season, and although some people like the chaos, others may find it annoying.
Exorbitant Charges
Singapore is stunning in December, but many visitors complain that the island's prices are also pretty steep.
What to Wear?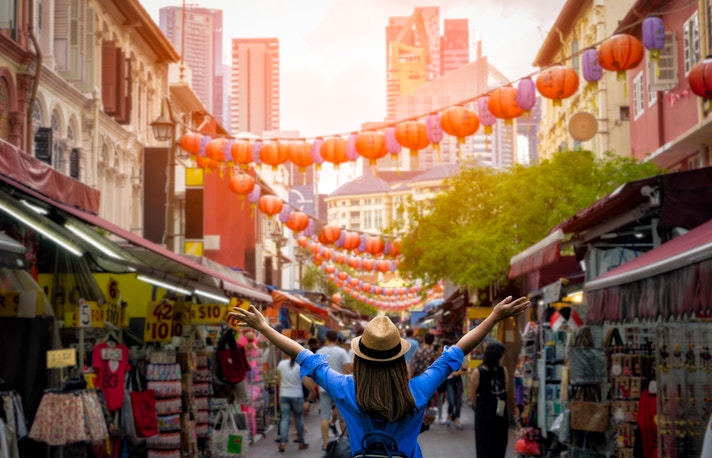 What to Wear in Singapore in Winter?
Because of the city's high pedestrian traffic, it's imperative that you wear shoes that allow you to move freely throughout the city.
Small, lightweight umbrellas are a wonderful idea to bring in your backpack when traveling since the nation is known for its sudden thunderstorms and light drizzles.
Avoid bringing a heavy raincoat to Singapore since it would be too hot; instead, go for a lightweight jacket.
Casual shirts, tops, and shorts are your best buddies since the weather is always hot and humid. To keep you cool and protected from the sun, tunics are ideal.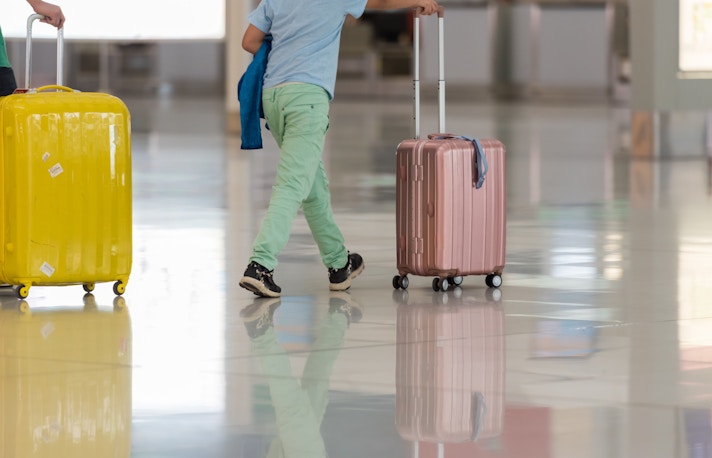 What to Pack for Singapore in Winter?
Because of the harshness of the Singaporean sun, you should bring high-factor sunscreen and reapply it often.
You may also stay cool and protected from the sun by wearing a pair of light trousers or harem pants.
For a more laid-back look, combine cropped trousers or flares with shirts, blouses, or tunics; or go with a loose summer maxi dress or skirt.
Pack a pair of flip-flops to go with your preferred bikini or one-piece.
Top Things to do in Singapore in Winter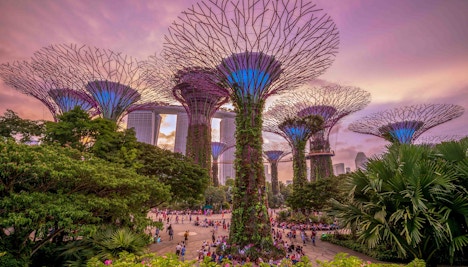 1. Gardens By The Bay
Outdoor Landmark | Must-Visit
For good reason, Singapore's Gardens by the Bay is one of the city's most popular tourist attractions. Awe-inspiring is the variety of flora and the inventive methods in which they are exhibited. One section of the conservatory is a Cloud Forest that replicates the tropical highlands' cool-moist ecosystems It contains a treetop promenade and a 114-foot indoor waterfall that is often photographed and makes up for a great winter attraction.
from S$10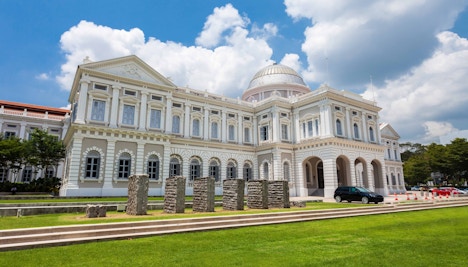 2. Visit The National Gallery
Gallery | Indoor Attraction
The National Gallery Singapore has Southeast Asia's biggest public collection of contemporary art, with more than 9,000 pieces. The Gallery is located in the heart of Singapore's Civic District and visitors can expect to see a wide range of artworks from across the globe, as well as rotating exhibitions that focus on specific artists or themes. If you want to avoid lengthy lineups, purchase your tickets ahead of time.
from S$14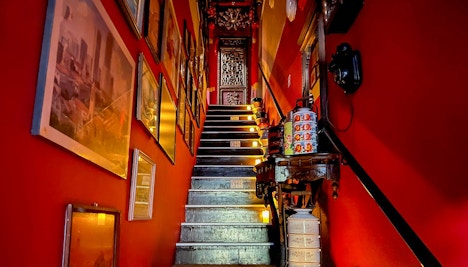 3. The Intan
Indoor Attraction | Culture
Peranakan antiquities may be found in abundance at The Intan, a private residence in the heart of Singapore. The Proprietor has devoted more than 30 years to acquiring 1,500 items from the Peranakan culture including enamel tiffin containers hand-painted in beautiful flower designs. There are no walk-ins allowed in winter. Book your tickets beforehand and get a cozy experience at The Intan.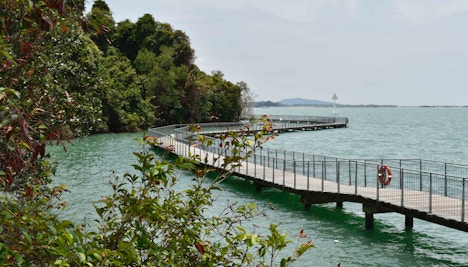 4. Pulau Ubin
Heritage | Outdoor Attraction
Step back in time to a bygone era of Singapore with Pulau Ubin. From Changi Terminal, you must take a 10-minute bumboat trip to reach there. This is an excellent day excursion for anybody interested in learning about Singapore's past or seeing its wild side.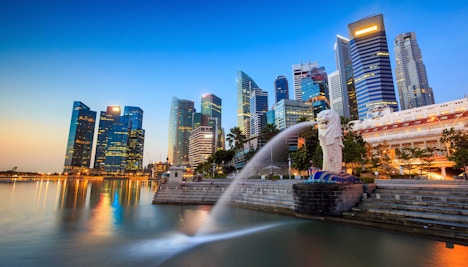 5. Step into Merlion Park
Landmark | Must-See
Merlion, Singapore's 28-foot half-fish and half-lion stone sculpture stand on this promenade facing Marina Bay. Originally a fishing community, Singapore's fish-themed logo pays homage to its name, Singapura, which translates to "Lion City". It was built in 1972 and is now one of the most popular tourist sites in the country, so be sure to stop by to see it in winter.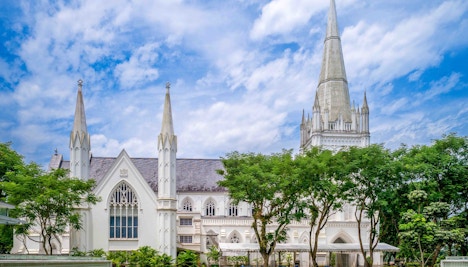 6. Saint Andrew's Cathedral
Indoor Attraction | Cathedral
This enormous wedding cake-like monument, which is one of the city's oldest buildings and perhaps its most stunning, stands in the middle of Singapore's Civic District. The building is encircled by parkland, making it a haven in the midst of a bustling metropolis. This is Singapore's biggest Anglican cathedral and also the country's oldest. It is highly popular among history, culture, and architectural enthusiasts.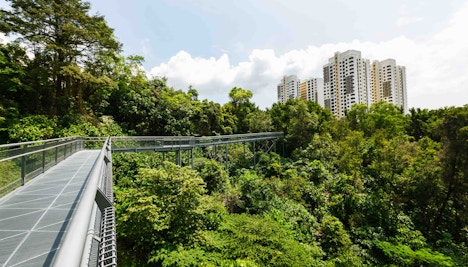 7. Visit the Southern Ridges
Outdoor Attraction | Day Trip
Singapore's 6.2-mile Southern Ridges route links Mount Faber Park and Labrador Conservation Area along the city's southern ridge. It's well-kept and well-built, as is typical of Singaporean architecture. Some areas have dense foliage, others are filled with awe-inspiring architectural features. Visiting the ridges is a great way of spending some quality time with your loved ones.
8. Botanic Gardens
UNESCO Site | Garden
There are three "cores" to this well-known UNESCO World Heritage site. It is the Tanglin core that greets tourists when they enter the Tanglin Gate via the ancient Tanglin Gate. As part of the park's existing rainforest, the Tyersall-Gallop and Bukit Timah cores include treehouses, suspension bridges, and a farm for children. You may witness more than 1,000 types of flowers and 2,000 hybrids at the National Garden throughout the winter months.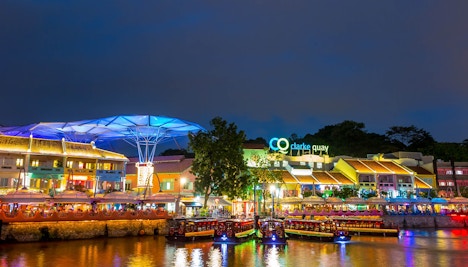 9. Visit Clarke Quay
Quay | Party Hotspot
This wharf, or quay, located near Fort Canning Park in the 1800s, was a hub of commerce when barges transported commodities downstream for safekeeping in warehouses. The silos have been renovated and painted in a spectrum of colors, making this a popular picture location. Apart from being a beautiful location, Clarke Quay has grown to be one of Singapore's most popular spots for dining, drinking, and having fun.
Events & Festivals in Singapore in Winter
ZoukOut
Venue: Sentosa, Singapore
Time: December
The ZoukOut music festival is one of Asia's largest. Zouk, one of Asia's most renowned outdoor nightclubs, comes to life for this special occasion. After Asia's greatest night-to-dawn beach party, ZoukOut, draws to a close as the sun rises.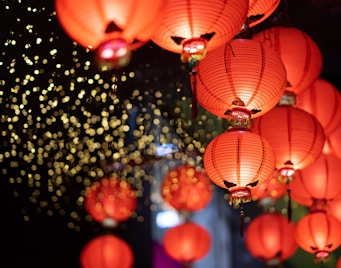 Chinese New Year
Venue: All over Singapore
Date: 21 January to 20 February
Most Singaporean Chinese folk celebrate the Chinese New Year. The first day of the lunar new year is normally between winter solstice and spring's commencement. This occurs every year between the 21st of January and the 20th of February. People think that Yu Huang, the ultimate ruler of earth and heaven, is on his throne on this day. Sweet cakes, caramelized fruits, and delicious rice dishes are offered to the Household Deity in the hopes that he would speak well of the family to Yu Huang on their behalf.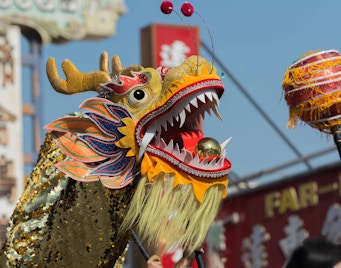 Chingay Parade
Venue: All over Singapore
Date: February
Lunar New Year's celebrations in Singapore are marked with the Chingay Parades. Masquerades and costumes are perfect for getting the most out of the festivities. The term "Chingay," which translates as "costume and masquerade art," comes from the Chinese. It's a must-see for anybody who wants to see a spectacular display of people from all over the world coming together to celebrate life.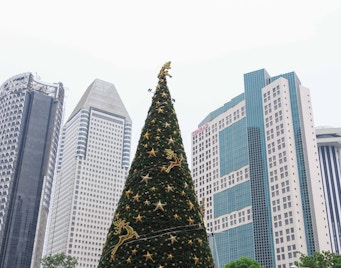 Christmas
Venue: All over Singapore
Date: 25th December
You don't need to do anything special to feel the Christmas spirit. The colorful lights, decorated streets, and mouthwatering food at Christmas in Singapore make it one of Singapore's finest holidays. Walk about the city after dark to experience the thrill of the lit-up Orchard Road.
Know Before you Visit SIngapore in Winter
Getting Around Singapore in winter
By Bus: In Singapore, utilizing the MRT is a bit more costly than using the city's bus system for short distances. In the morning, the majority of buses are out on the road and most are air-conditioned. Buses with single and double decks may be seen all throughout the city.
By Taxi: It costs $3 for the initial one-mile journey by conventional cab, followed by 22c for additional 400m until you get to 10 kilometers when the fee gets lower.
By MTR: When it comes to getting about the city, there's no better way than the MRT. Most of the city's attractions are within walking distance of an MRT station.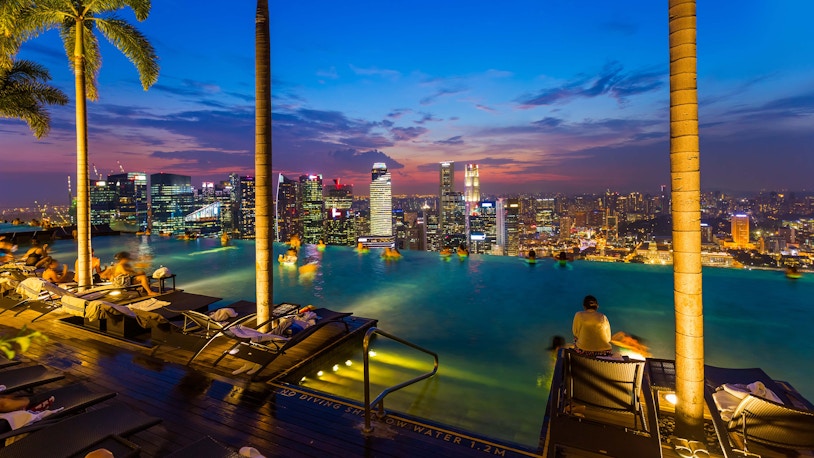 Where to Stay in Singapore in Winter
Singapore in winter is a once-in-a-lifetime chance, so make the most of it. These are some of the best hotels in Singapore to stay at for a fantastic holiday.
Luxury Hotels: Mandarin Oriental, Andaz Singapore, The St Regis Singapore, The Ritz Carton, Millenia, Singapore
Mid-range Hotels: Fragrance Hotel - Oasis, ibis budget Singapore Pearl, Bliss Hotel Singapore, Hotel YAN
Budget Hotels: Lloyd's Inn Singapore, Holiday Inn Express Singapore Orchard road, KINN Capsule Hotel - SG Clean, Hipstercity hostel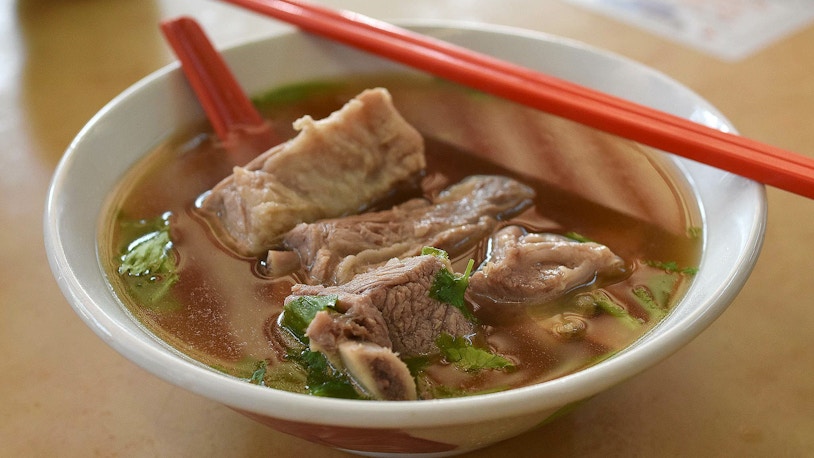 What to Eat in Singapore in Winter?
Bak Kut Teh: Bak Kut Teh, or pig bone tea, is a famous dish in Malaysia and Singapore that originated in China. Pork isn't truly cooked in tea, but it is claimed that the soup was given its name because it is served with a strong cup of tea to flush off the fatty residue.
Char Kway Teow: Another famous hawker meal in Singapore is Hokkien Mee, which is often served with Char Kway Teow. Hokkien cuisine has spread to Singapore and Malaysia from its origins in China's Fujian region, the ancestral home of the Hokkien people.
Chicken rice: With so many restaurants serving chicken rice, it may be considered as Singapore's official national cuisine.
Frequently Asked Questions About Visiting Singapore in Winter
Is winter a good time to visit Singapore?
Traveling to Singapore and getting a taste of its wonders is especially enjoyable in the winter.
How cold is Singapore in winter?
In Winter, Singapore has an average temperature of about 26°C.
What is the average temperature in Singapore in winter?
The average temperature in Singapore in winter is around 21 degrees Celsius. Temperatures can dip to as low as 16 degrees Celsius at night, so be sure to pack a jacket or sweater! During the day, the sun is usually out and it can get quite hot, so make sure to wear sunscreen and drink plenty of water.
Is it sunny in Singapore during winter?
Singapore has few hours of daylight per day in Winter, which remains partly overcast.
Is it windy in Singapore during winter?
In Singapore, the average wind speed is 8.1 m/hr during the winter months.
What clothes to wear in Singapore in winter?
You can wear clothes according to the climate. It's hot and humid, so do take that into consideration.
Is Singapore cheaper in winter?
Singapore in winter is not very cheap. Yet, there are ways to save big on minor things.
Is Singapore expensive to visit in winter?
No, Singapore is not expensive to visit in winter. In fact, it can be quite affordable as many hotels and resorts offer discounts during this time of year. Just be sure to book your accommodation in advance as rooms fill up quickly!
What are some things to do in Singapore in winter?
Singapore is a pleasant place to visit because of all the things to do. Visit the national gallery and the Intan with your dear ones while you're in town.
Singapore in winter is deemed a safe place to visit.
What can I see in Singapore in winter?
The ZookOut festival is a must-attend, and you can also pay a visit to the neighborhood around Chinese New Year.
What is closed in Singapore in the winter?
It is possible to visit several of Singapore's most popular sites throughout the Christmas season.
What adventure activities can I do in Singapore in winter?
You can stroll around the neighborhood, enjoy the festivities of Chinese New Year, attend the ZookOut fest, and many more.
What are the free things to do in Singapore in winter?
Merlion Park, Botanic Gardens, and Gardens by the Bay are some of the numerous attractions in Singapore that can be enjoyed free of cost.
Can you swim in Singapore during the Winter?
Yes, you can easily enjoy a dip in Singapore in Winter.
What to do with kids in Singapore in the Winter?
Winter is a great time to visit Singapore's most popular sights, like the National Gallery and the Singapore Zoo, with children.